Some serious Funk!
The Funkasaurus tells us what to expect at No Way Out
Last Updated: 14/06/12 4:13pm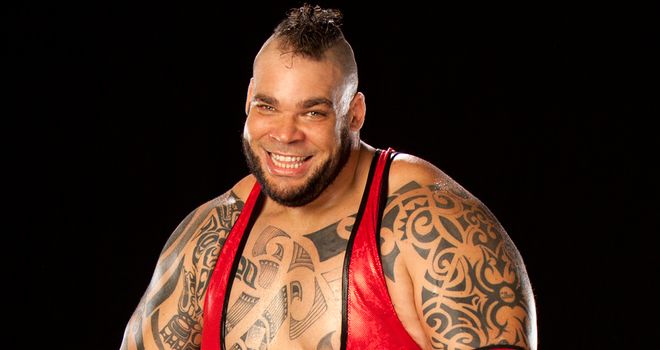 Brodus Clay: wants to fight the Big Show
Ahead of No Way Out, skysports.com caught up with a man who has brought the funk to the WWE in recent months.
Brodus Clay - aka The Funkasaurus - has wowed the WWE Universe with his wrestling moves in the ring - and his dance moves outside of it!
And we snatched a few words with the 375lbs Superstar, who hails from Planet Funk, to find out just where all of those moves came from.
He also told us about his WrestleMania dreams, his hopes for the year ahead and just what we can expect at No Way Out, which is live on Sky Sports Box Office on Sunday night from 1am.
Click here to order No Way Out now
Tell us where idea for The Funkasaurus came from?
BRODUS CLAY: I was joking around backstage and Vince happened to see me... and now here we are.
Where did you learn those dance moves? Do you have to practise them much?
My dancer Naomi was a former Orlando Magic dancer, so she teaches both me and Cameron all the moves. I also practise rigorously!
Do you worry that the people might see it as a gimmick and not take you seriously in the ring?
I hope they don't... they shouldn't!
We've seen a more sinister side of you in recent weeks. Will we see you getting a bit more serious from now on?
Yes, when the bell rings it's all about business. But when I'm outside the ring it's all about entertainment.
You're on a long unbeaten streak. What are your hopes for the next few months in the WWE?
To keep the victories coming and get myself into a Championship situation.
You were attacked by the Big Show on a recent episode of RAW. Do you want a match with him at some stage?
Yes, yes, yes, yes, yes. Oh yes!
You've played a role at the last two WrestleManias, but are yet to have a match. How much would it mean to you to have a match on that stage?
It is the last item on my bucket list. I've been on outside of the ring with Alberto Del Rio and I got to dance with my mamas at WrestleMania 28. The next step in life is to compete at WrestleMania. That is my goal and that is actually everyone's goal.
Tell us about your experiences of being on that stage.
The first one I had huge butterflies. It's an unbelievable feeling; it's like being in the middle of the city with everyone staring at you. I actually had no idea I was going to be a part of history, it's a little humbling to think about it. Last year was a thrill of a lifetime, we shocked the world literally.
Who would your dream WrestleMania opponent be?
Arn Anderson
What can we expect from your match against David Otunga in the No Way Out pre-show?
Joy for me and pain for him.
Is this your chance to show your thoughts on John Laurinaitis and the way he's been running things?
Unfortunately because of the way he reacts, I have no comment at this time...
Finally, we want you to use one word - and one word only - to tell us what the Sky Sports Box Office viewers can expect in the rest of the big matches on Sunday night...
John Cena v Big Show
Justice
CM Punk v Daniel Bryan v Kane
Carnage
Sheamus v Dolph Ziggler
Action
Christian v Cody Rhodes
Peeps
Layla v Beth Phoenix
Legitimate
WWE No Way Out will be live on Sky Sports Box Office on Sunday night at 1am (Mon). Click here to order now