Carry on wrestling
Regal speaks out on Lesnar, Triple H, CM Punk and more...
Last Updated: 13/04/12 4:46pm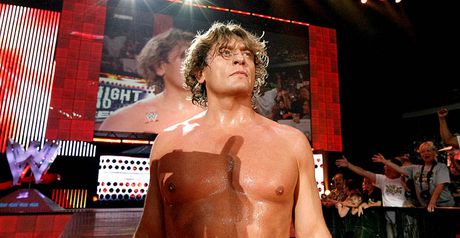 Regal: back in the UK with the WWE
As the WWE returns to the UK, skysports.com caught up with one of Britain's' most successful Superstars of all time: William Regal.
The 43-year-old former Intercontinental Champion and King of the Ring hasn't been seen in the ring too much of late, focusing instead on commentating and working with up-and-coming stars on NXT, but he assured us that he has no plans to retire.
We also got his thoughts on the return of Brock Lesnar, his reaction to WrestleMania and the rise of his protégées, including Triple H, CM Punk and Daniel Bryan.
Plus, he told us how he's been paying tribute to some British comedy legends...
We haven't seen you in the ring very much lately, so clear things up for us. Are you still an active in-ring competitor or are those days behind you?
WILLIAM REGAL: At the end of last year I was coming around to a lot of years without any breaks and I decided to pull out for a little bit and do some commentary and some other things; I go talent scouting and different things. I'm always busy and I do more things now than I've ever done. But I just had a break, gave my body a rest for a little while and now I do a bit. I did the last UK tour six months ago and I went to Japan. I'll be on the entire current tour.
So you haven't retired?
WR:There's no chance of me retiring any time soon. There'll be the odd spot now and then when I feel like doing a few, but mostly on tour. I like coming on the tours.
Do you still have ambitions that you want to achieve in the ring? Would you still like to become the first British WWE Champion?
WR: I'd like to become the Heavyweight Champion. Those chances are probably few and far between now, but it would be nice to say you were the first British Heavyweight Champion. I'm sure somebody will get that honour one day, probably Wade Barrett and good luck to him if he does. I certainly can't complain about it because I've had more than my fair share.
You're well known for your technical style of wrestling. Do you think that's a dying art in the WWE?
WR: I actually don't. I think it's coming back into force. There's been a group of young fellas that I've had a hand in training - Daniel Bryan and CM Punk and people like that - who have come to me over the years. Up until WrestleMania, both of them were World Champions and I think that's set the standard now. You can't be one of those one-dimensional wrestlers any more; there's so many different styles and international wrestlers coming into the company that everybody's going to have to get technical and at least be able to do that, whether they need to use it or not. I think it's a good time for technical wrestlers.
"I get to pay homage to a lot of my comedy heroes from England - Eric Morecambe, Les Dawson, Tommy Cooper... I throw a little bit of their stuff in there for my own entertainment. "
William Regal Quotes of the week
Were you proud to see Daniel Bryan and CM Punk go to WrestleMania as champions?
WR: Of course, yes. It was a great moment. I'm happy whenever I see anybody I've worked with - or anybody I like in general - when I know they've worked hard. They haven't taken any short cuts to get here and they've put the time in, so it was real special for me.
You have a key role on the latest series of NXT now. Is it important for you to help the next generation of Superstars?
WR: Yes it is. It's something I've always done, believe it or not, behind the scenes from day one. When I first came to America I worked with Triple H and it's gone on from there. There's never been a time when I haven't had somebody I've been working with. I've just kept it quiet. But I like doing it on that show and I like being the character I can be on that show. I have a lot of fun doing that because I get to play around and have a good time. The people we have on it and the show we are putting out, most people don't pay any attention to it in America and I think they're missing out on a really good show.
We show it quite a lot over here on Sky Sports. Why do you like it so much?
WR: The talent get opportunities. They get opportunities in the ring, they get opportunities to do backstage segments and show their characters, which they wouldn't normally get if they were on RAW or Smackdown because most of the big stars get all the airtime. Hopefully they're making the most of it.
We have also seen you in the commentary booth. Do you enjoy speaking about wrestling as much as performing?
WR: Yes. It's nice being the person that's still allowed to talk about wrestling. That was the role I was given when I was told to do this. The boss said: 'You're the one man who can talk about wrestling, you do what you do best and you do whatever you think your character should be.' I think I'm the first person to ever do anything like that - a kind of Les Dawson character, always putting myself down and putting over the talent to make them sound as good as possible. I also get to pay homage to a lot of my comedy heroes from England - Eric Morecambe, Les Dawson, Tommy Cooper... I throw a little bit of their stuff in there for my own entertainment.
Who'd have thought we'd see someone doing Les Dawson in the WWE?
WR: Without guys like that there would be no me. I think the people in Britain get my whole act and since I've been in America they've been on the ride with me. They get the "wink wink" carry-on character kind-of thing, unlike the rest of the world. It's 'Carry On Wrestling' and I've always thought that way. It's good to be doing that sort of stuff and it's fun. I hope people are at home keeping score because I throw a few really obscure references in for real comedy fans!
You mentioned Triple H earlier. At WrestleMania we saw an epic match between him and The Undertaker. What were your emotions whilst watching it?
WR: It was just... I don't really have the verbage to say it. It was so intense and so emotional. There was so much time invested into it and I sat there watching it and watching the audience and the way they reacted. The effort that they both put in was outstanding. It was just a brilliant, brilliant match.
Do you think we will see either man in the ring again?
WR: I don't doubt it at all. I'm sure they'll both be back. There's no reason why they won't be, probably only a few times a year, but when you've got to that kind of level and you're that good, that's all you need. It's so special. Whether they'll compete against each other again I don't know. I'd probably think not because that seemed to be the ultimate match they could possibly have. They'd always be chasing that.
The other big story right now is the return of Brock Lesnar? How have you and the other WWE Superstars reacted to that?
WR: I was happy about it. I like anything that's interesting and brings some interest to the show. I like Brock, I like his intensity and he's so ferocious. It's thrown a thousand pounds of fireworks into the middle of the company and it's going to make everybody step their game up. I love it when anybody comes along, like when The Rock comes back, and it''s silly nonsense that people are wasting their time being envious. I love it because it makes everybody step their game up to keep up. That makes everybody better performers... or the good ones anyway. I like anybody who comes along and makes people sit up and take notice.
What are you expecting from his match with John Cena at Extreme Rules?
WR: I think we're going to see something we've never seen before. They set a standard on RAW over the ferocity that's going to go on between those two. I think people will be shocked; I've got a feeling it's going to be like nothing we've seen. It's going to set a new standard for a new form of physicality and hopefully people will be talking about this for a long time.
And should UK fans be excited about the tour?
WR: Of course. They're always great events and this is a great base. People ask who the best fans are, but the British fans have been loyal to this company for over 20 years, constantly. Whenever anywhere else in the world is down, they can come to the UK and know the fans are going to be there; generations and generations keep on coming. They're great everywhere we go and it's a pleasure to entertain these people, I truly mean that. It's a great honour for me. I started on a fairground in Blackpool 29 years ago and it's fantastic to come out in front of people in these big arenas.
And hopefully the British fans will get that British champion at some point?
WR: You never know. I've still got a few left in me. I'm in good nick, but I don't believe in fairytales. I don't worry about it too much.
WWE WrestleMania Revenge Tour hits the UK and Ireland from April 12 to April 21. For more information go to www.wwe.com/revengetouruk
WWE Extreme Rules will be live on Sky Sports Box Office on Sunday April 29. Click here for more.