Simon Veness reflects on the renaissanace of NASCAR
By Simon Veness. Last Updated: 26/02/14 6:58pm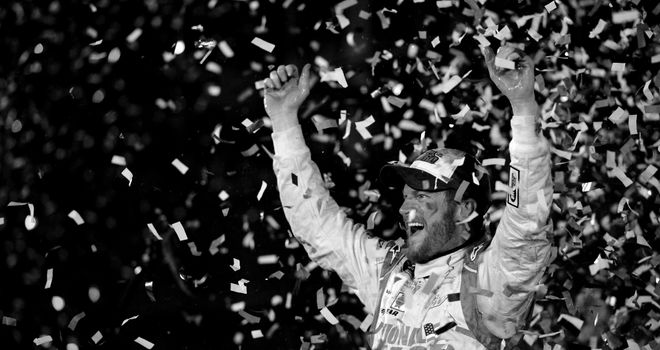 Dale Earnhardt Jnr: winner of the 56th Daytona 500
Break open another case of Bud and rev those engines 'til they smoke. We've got ourselves a sport again!
That was the shout from this side of the pond - in fact, only about 60 miles up the road from Veness Towers - as Dale Earnhardt Jnr crossed the line before anyone else in the much-delayed Daytona 500 last weekend.
At least, it would have been a shout if there had been more than a relative handful left to see the finish after a nasty day of weather on that part of the Florida coast that forced a six-hour-plus hiatus after just 39 initial laps of the massive speedway.
We're used to big tropical storms in this part of the world but, while Orlando enjoyed the blissful sun of a 29C day and nary a drop of rain, poor old Daytona got clobbered by a massive series of squalls that dumped more than an inch of rain on the 43-car field.
At one point, following the red flag, the whole 150,000-seat main grandstand had to be evacuated as the local weather bureau issued a tornado warning for the area (and that's not something you take lightly in these parts).
But the only whirlwind that actually hit the track was the No. 88 car driven by the son of the man who died here on the final lap in 2001.
Renaissance
It ended a 10-year Daytona victory drought for Junior, marked his first win of any kind for 55 races dating back to 2012 - and kick-started the sport back into the consciousness of a nation that seemed about ready to give up on its Days of Thunder.
"It ended a 10-year Daytona victory drought for Junior, marked his first win of any kind for 55 races dating back to 2012 - and kick-started the sport back into the consciousness of a nation that seemed about ready to give up on its Days of Thunder."
Simon Veness
Admittedly, it took a little while for it so sink in. After all, it was long gone 11pm for a race that actually started at 1pm, and where many of the fans had been waiting since half-past Thursday. Yes, they are stock car fanatics, but there was still barely only a third of the main stand full as Junior took the chequered flag.
But that did not matter a jot as the most popular racer in America - the ONLY seriously popular racer in America - got back in the winner's enclosure in a race that truly mattered and let out an almighty roar on his car radio.
Junior went on to give a highly emotional live interview that uncorked years of angst and personal torment, and put a whole tank of new, high-octane fuel in the NASCAR engine.
Because make no mistake, this was a sport just about ready to putter off into the sunset if someone hadn't given it a massive publicity shot in the arm after a near 10-year decline from its glory days under the original Dale Earnhardt and then his precociously talented son.
While Jimmie Johnson has dominated much of the racing story for six of the past eight years with his best Sebastian Vettel impression (in fact, his winning run pre-dates the German Red Bull ace by a full four years, so you could say Vettel is currently doing a JJ impression in Formula One), the simple fact is Jimmie Johnson could walk naked down Broadway and not draw a second glance (apart from the whole nude bit).
For large parts of America, the six-time champ is as anonymous as Waldo without his red-and-white shirt. A great racer, sure; but a complete wash-out as the face of a sport.
Exposure
The move to attract Sports Illustrated pin-up Danica Patrick from the open-cockpit world of IndyCar racing has also been less than a stellar success so far.
In 47 Sprint Cup races to date, the diminutive Danica has one top 10 finish and she finished last season at a dismal 27th in the standings.
Sure, she has sold plenty of merchandise (and yes, she would cause a LOT more of a stir if she dispensed with clothing for a Broadway stroll), but she hasn't exactly put bums on seats in NASCAR stadia.
In fact, the best publicity the Patrick Show has managed to generate in two-plus years is a largely manufactured feud with the old King himself, Richard Petty, in a series of Yah-boo-sucks retorts that culminated at the weekend with the 76-year-old Petty insisting he could still race the fire-retardant pants off the Ice Queen.
So, the stock car world was desperately waiting for someone, anyone, to save it from an inglorious long, slow death when the new season kicked off on Sunday.
And it all went suitably plum nutty when the rain-splattered events had been resolved and a winner whose name and face can be plastered all over the country - in the sure knowledge it will be both recognised and revered - had been cheered to the half-empty rafters.
Now it's Game On once more in this slightly insane sport, where drivers sit on the bumper of other cars at a hundred-and-plenty mph on circuits that would make the average Tesco car park look generous, space-wise.
Danger
Now, all the talk is about a magical season ahead, instead of another year of watching attendances dwindle and dreading a seventh crown for Johnson, for all of his undoubted class.
The fact Junior is already - under NASCAR's convoluted new rules - all but guaranteed a place in the season-ending Chase for the championship all but guarantees a greater focus on what was in danger of becoming a one-man show.
America's sports media is already turning cartwheels at the thought of having meaningful Dale Jnr stories to write for the next nine months, and there will be nothing manufactured about the spirit, emotion and will-to-win from the 88 car in every outing.
Earnhardt the younger is a true sporting throwback, an eager-to-win but generous-in-defeat soul who could easily have thrown all his toys out of the pram after suffering some truly wretched - some would say cursed - luck in his six years since switching from the team founded by his father to Hendrick Motorsport before the 2008 season.
And his valiant quest for a first championship (Dale Snr won seven) is most definitely on, in full throttle fashion. It will be a significant part of the sporting narrative over here until the final races in November, and NASCAR will be much the healthier for it.
Who knows, we might even see Danica in the top 10 again?