MLB: Lonnie Chisenhall has three homers in a five-hit game for Cleveland Indians
Last Updated: 10/06/14 8:08am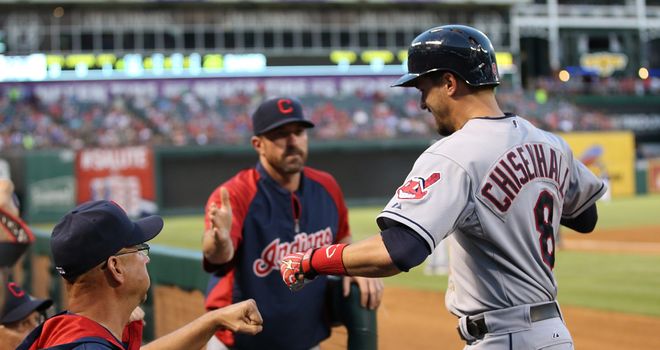 Cleveland Indians manager Terry Francona congratulates Lonnie Chisenhall
Cleveland third baseman Lonnie Chisenhall tied a franchise record with nine RBI in a 17-7 rout of the Texas Rangers at Globe Life Park on Monday.
Chisenhall had three homers in a five-hit game, becoming only the fourth player in the past 100 years to post at least three homers, five hits and nine RBI in a game.
The result also marked the Indians' ninth victory in 10 games.
Elsewhere, the Baltimore Orioles opened their three-game series against the Boston Red Sox with a 4-0 triumph at Camden Yards.
Bud Norris tossed eight innings of three-hit ball, striking out six against the defending World Series champions. Adam Jones, Nick Markakis and Ryan Flaherty all went deep for the O's.
Andrew McCutchen registered a two-run homer and an RBI double, and Charlie Morton pitched seven innings of one-run ball as the Pittsburgh Pirates toppled the Chicago Cubs 6-2 to get their four-game series off to a flying start at PNC Park.
Snapped
Toronto edged the Minnesota Twins 5-4, Edwin Encarnacion crushing a three-run homer in the first inning and Kevin Pillar's walk-off single in the ninth swiftly making amends for a defensive error which had contributed to the Blue Jays blowing a two-run lead.
Scott Van Slyke had a career-high four RBI in the Los Angeles Dodgers' 6-2 win over the Cincinnati Reds, while Gavin Floyd gave up one run and three hits in 6 2/3 innings as the Atlanta Braves toppled the Colorado Rockies 3-1.
The Chicago White Sox snapped a three-game skid with a 6-5 victory over the Detroit Tigers, Jose Abreu belting a two-run homer in a three-run fifth inning, and Robinson Cano drove in two runs to help the Seattle Mariners to a 3-0 success over the Tampa Bay Rays at Tropicana Field.
In other action, the Washington Nationals prevailed 9-2 at the San Francisco Giants, the Houston Astros were 4-3 winners at the Arizona Diamondbacks and the Los Angeles Angels defeated the Oakland 4-1. The Kansas City Royals' game against the New York Yankees was postponed due to rain.