MLB: Rare delight for Arizona
Last Updated: 05/06/14 10:57pm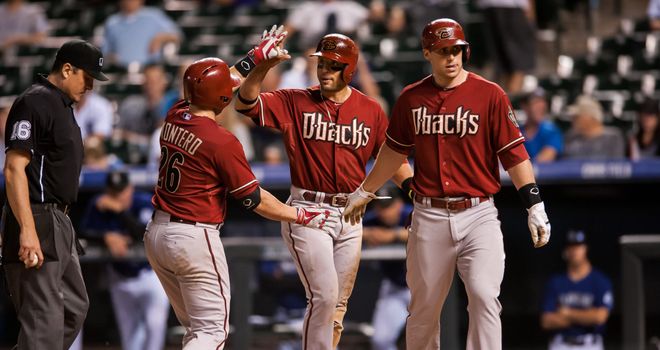 Miguel Montero celebrates a three-run home run with Martin Prado and Paul Goldschmidt
The Arizona Diamondbacks lurk at the foot of Major League Baseball's National League West but had a rare night to cherish as they handed a pummelling 16-8 defeat to the Colorado Rockies.
Miguel Montero drove in a career-best six runs, capped by a three-run homer in the ninth, as the D-backs roared from 8-5 behind heading into the eighth inning.
They took six runs from that inning and five from the ninth to complete the turnaround.
The Oakland Athletics inflicted a 7-4 defeat on the New York Yankees in the Bronx, helped by a pair of home runs from Yoenis Cespedes as they overcame an early 4-0 deficit.
It gave Oakland a fourth straight win, while for the Yankees the defeat was their fourth in a row at home.
At least the Yankees can see a team worse off, after the Tampa Bay Rays suffered a ninth successive loss, Donovan Solano's three-run homer seeing them handed a 5-4 setback against the Miami Marlins.
Success
The San Francisco Giants were 3-2 winners on the road against the Cincinnati Reds, whose four-game run of victories was halted. Michael Morse and Juan Perez both homered off Tony Cingrani in the sixth inning for San Francisco.
In Detroit, the Toronto Blue Jays enjoyed an 8-2 success against the Tigers, while between the showers in the US capital there was an 8-4 win for the Washington Nationals over the Philadelphia Phillies.
The San Diego Padres edged the Pittsburgh Pirates 3-2, and after 11 innings the St Louis Cardinals toppled the Kansas City Royals 5-2.
After four losses in a row, the Los Angeles Angels bounced back in Houston to beat the Astros 4-0, while the Baltimore Orioles edged the Texas Rangers 6-5 in Arlington, the Minnesota Twins overcame the Milwaukee Brewers 6-4, and the Chicago Cubs eked out a 5-4 home win over the New York Mets.
The Atlanta Braves fell 2-0 at home to the Seattle Mariners and the Chicago White Sox were 2-1 winners over the Los Angeles Dodgers on the back of home runs from Leury Garcia and Adam Dunn.
Finally, in the early hours of Thursday morning, Asdrubal Cabrera hit a three-run homer in the 12th inning to book the Cleveland Indians a 7-4 victory over the Boston Red Sox.