MLB: Miguel Cabrera guides the Detroit Tigers to victory over the Oakland Athletics
Last Updated: 30/05/14 9:31am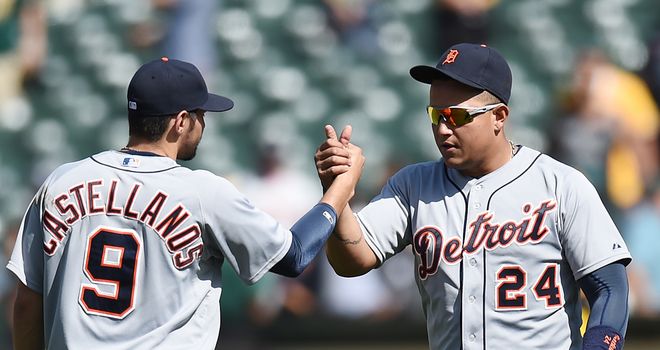 Miguel Cabrera and Nick Castellanos celebrate defeating the Oakland Athletics
Miguel Cabrera's go-ahead sacrifice fly in the fifth inning lifted the Detroit Tigers to a 5-4 victory over the Oakland Athletics and secured a split of the four-game series between division leaders.
Cabrera and Victor Martinez drove in two runs apiece to get the American League Central pace-setters past their AL West counterparts.
Rick Porcello gave up two runs on five hits with four strikeouts and issued a career-high six walks for the Tigers, while Nick Punto hit a two-run homer in a losing cause for the Athletics.
The Toronto Blue Jays saw their nine-game winning streak snapped in an 8-6 loss against the Kansas City Royals. Omar Infante's two-run single to left in the 10th inning won it for the Blue Jays, who rallied to tie it in the ninth on the back of an error from Jose Reyes on a routine ground ball.
Erick Aybar struck a three-run blast in the fourth inning off Seattle starter Brandon Maurer to help the Los Angeles Angels to a 7-5 win over the Mariners.
Homer
Houston extended their winning run to six games with a 3-1 victory over the Baltimore Orioles, George Springer's go-ahead two-run homer in the seventh inning putting the Astros in the driving seat.
Leonys Martin doubled twice and scored three times, including the tie-breaking run on a Rougned Odor sacrifice fly in the eighth in the eighth inning, as the New York Rangers overcame the Minnesota Twins 5-4.
The Boston Red Sox won their fourth straight game, Jackie Bradley Jr posting the winning run in the ninth for a 4-3 interleague triumph over the Atlanta Braves.
The San Francisco Giants opened their four-game National League series against the St Louis Cardinals with a 6-5 win, Michael Morse's go-ahead two-run double in the eighth inning proving decisive.
In other NL action on Thursday, Chris Young's two-run homer helped the New York Mets sink the Philadelphia Phillies 4-1, the Pittsburgh Pirates toppled the Los Angeles Dodgers 6-3 and the Arizona Diamondbacks saw off the Cincinnati Reds 4-0.