MLB: Yovani Gallardo helps Milwaukee Brewers beat Orioles in 10 innings
Last Updated: 28/05/14 10:56am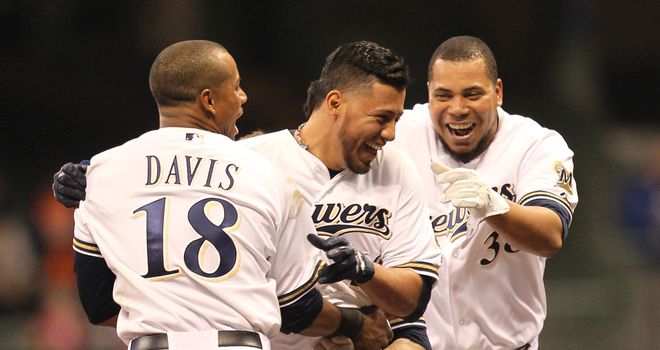 Yovani Gallardo was Milwaukee Brewers' hero on Wednesday
Pitcher Yovani Gallardo was Milwaukee Brewers' hero - with the bat - as they edged past Baltimore Orioles 7-6 in 10 innings.
After TJ McFarland intentionally walked Mark Reynolds, Gallardo stepped in to pinch-hit for Francisco Rodriguez and calmly crashed McFarland's fastball over centre-field for a walk-off double, scoring Reynolds from first.
The Brewers had led 5-0 after four innings but were pegged back, chiefly by Steve Pearce's three-run homer, and needed Jonathan Lucroy's weak RBI single to force extras.
Wednesday's MLB results:
D'backs 3 Padres 4
Red Sox 6 Braves 3
White Sox 2 Indians 1
Royals 0 Astros 3
Dodgers 6 Reds 3
Brewers 7 Orioles 6
Twins 4 Rangers 3
Mets 4 Pirates 2
Athletics 5 Tigers 6
Phillies 2 Rockies 6
Giants 4 Cubs 0
Mariners 4 Angels 6
Cardinals 6 Yankees 0
Blue Jays 9 Rays 6
Nationals P Marlins P
The win keeps the Crew 1.5 games clear in the National League Central ahead of St Louis Cardinals, who beat New York Yankees 6-0 after taking advantage of fielding errors to score four runs in the third.
NL West leaders San Francisco Giants remain 4.5 games clear after a 4-0 win over Chicago Cubs. Tim Hudson pitched seven scoreless innings and Buster Posey drove in two runs.
Nearest pursuers Los Angeles Dodgers beat Cincinnati Reds 6-3, Andre Either with four RBIs including a home run and a triple while pitcher Zack Greinke extended his win record to 8-1.
Wilin Rosario's three-run homer helped Colorado Rockies to a 6-2 win over Philadelphia Phillies while San Diego Padres beat Arizona Diamondbacks 4-3.
The all-NL East clash between Washington Nationals and Miami Marlins was postponed due to rain but leaders Atlanta Braves were unable to take advantage, losing 6-3 to Boston Red Sox who scored four runs in a scrappy seventh.
Mets win
New York Mets beat the Pittsburgh Pirates 4-2 in the other game in the National League.
In the American League East, leaders Toronto Blue Jays recorded their eighth successive win as home runs from Adam Lind, Edwin Encarnacion and Juan Francisco downed Tampa Bay Rays 9-6.
Pitcher Mark Buehrle now leads MLB with nine wins this season while Encarnacion's homer was his 14th of the month, equalling a franchise record.
The Central and West division leaders met in Oakland, where the Athletics were beaten 6-5 by Detroit Tigers.
Home runs for Miguel Cabrera and Torii Hunter set up the win, which was clinched by pinch-runner Rajai Davis stealing third base before being batted in by Austin Jackson.
Chicago White Sox remain five games behind Detroit in the AL Central after Gordon Beckham's homer helped them to a 2-1 win over Cleveland Indians.
Los Angeles Angels beat Seattle Mariners 6-4, Minnesota Twins scored two runs in the bottom of the ninth to edge out Texas Rangers 4-3 and Houston Astros beat Kansas City Royals 3-0.