MLB: Boston Red Sox finally snap their losing streak at 10 games
Last Updated: 27/05/14 9:21am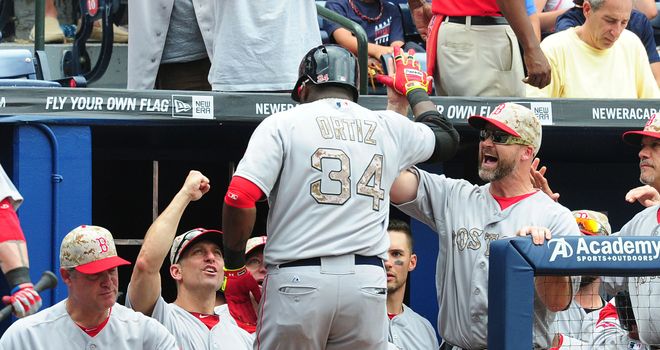 David Ortiz helped the Red Sox see off the Braves on Monday
Boston Red Sox finally brought an end to their long losing streak as they staged a superb comeback to edge out Atlanta Braves 8-6 at Turner Field.
The reigning World Series champions had lost 10 on the trot going into the match - their worst run in 20 years - and looked set for more misery as they fell 6-1 down after four innings against the National League east pacesetters.
However, the Red Sox fought back and, thanks in part to David Ortiz's game-tying, three-run homer with two outs in the fifth, they were able to celebrate a victory at long last.
Monday's MLB results:
Diamondbacks 7 Padres 5
Braves 6 Red Sox 8
White Sox 6 Indians 2
Royals 2 Astros 9
Dodgers 4 Reds 3
Brewers 6 Orioles 7
Twins 2 Rangers 7
Mets 3 Pirates 5
Athletics 10 Tigers 0
Phillies 9 Rockies 0
Giants 4 Cubs 8
Mariners 5 Angels 1
Cardinals 4 Yankees 6
Jays 10 Rays 5
Nationals 2 Marlins 3
At the other end of the form spectrum, Toronto Blue Jays made it seven wins on the trot after thrashing Tampa Bay Rays 10-5 at Rogers Centre.
Toronto's 16 hits were one short of a season-high while they also scored three home runs through Dioner Navarro, Steve Tolleson and Edwin Encarnacion as they remained clear at the top of the American League east.
The Blue Jays did not manage to improve their advantage at the summit though as nearest challengers New York Yankees and Baltimore Orioles both won as well.
Third straight success
The Yankees recorded their third successive win after three runs in the decisive 12th innings earned them a 6-4 triumph over St Louis Cardinals, while two home runs from Jonathan Schoop helped Baltimore squeeze past Milwaukee Brewers 7-6.
Detroit's lead at the top of the AL central continues to be whittled away after they slumped to a third successive loss, and it was a chastening one as the Tigers were mauled 10-0 by Oakland, who belted five home runs in the victory.
Taking advantage of that loss were Chicago White Sox, who closed the gap on Detroit with a 6-2 win over the Cleveland Indians.
Chicago's local rivals the Cubs were also celebrating a victory as they inflicted an 8-4 defeat on NL west leaders San Francisco Giants.
In other games, Philadelphia Phillies and Houston Astros were big winners, beating Colorado Rockies 9-0 and Kansas City Royals 9-2 respectively, while Texas Rangers were 7-2 winners over Minnesota Twins and Miami Marlins defeated Washington Nationals 3-2.
In a mixed day for the Los Angeles sides, the Dodgers eased past Cincinnati Reds 4-3 but the Angels were 5-1 losers against Seattle Mariners. Also Pittsburgh Pirates beat New York Mets 5-3 and Arizona Diamondbacks downed San Diego Padres 7-5.