MLB: Adam Dunn lifts Chicago White Sox over New York Yankees
Last Updated: 24/05/14 9:06am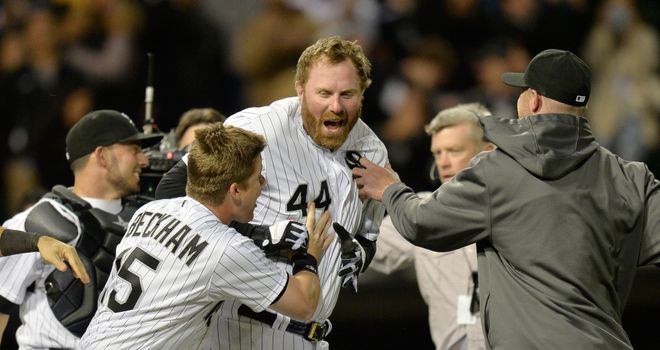 Adam Dunn helped give the White Sox a 6-5 victory over the Yankees
Adam Dunn cracked a two-run homer in the ninth inning to secure a 6-5 win for Chicago White Sox against New York Yankees.
Team-mate Alexei Ramirez had also gone deep earlier in the contest as the White Sox, in front of a home crowd, recovered from going 3-0 down at the top of the first inning.
American League Central front-runners Detroit Tigers halted a four-match losing run by pounding Texas Rangers 7-2 on the back of home runs from Austin Jackson and Andrew Romine, while a two-run homer from Steve Tolleson helped the Toronto Blue Jays fend off the Oakland Athletics 3-2.
Friday's MLB results:
Braves 3 Rockies 2
Orioles 8 Indians 4
White Sox 6 Yankees 5
Reds 5 Cardinals 3
Tigers 7 Rangers 2
Angels 6 Royals 1
Marlins 5 Brewers 9
Mets P Diamondbacks P
Phillies 0 Dodgers 2
Pirates 4 Nationals 3
Padres 11 Cubs 1
Giants 6 Twins 2
Mariners 6 Astros 1
Rays 1 Red Sox 0
Blue Jays 3 Athletics 2
Los Angeles Angels overwhelmed Kansas City Royals 6-1, while Seattle Mariners prevailed by the same margin against Houston Astros. Chris Davis spurred Baltimore Orioles to an 8-4 success against Cleveland Indians.
In St Petersburg, there was a night to remember for Cole Figueroa whose RBI double in the bottom of the ninth inning handed Tampa Bay Rays a 1-0 win against Boston Red Sox, their second straight walk-off victory.
Troubles increased
For Boston, it meant an eighth straight defeat as their troubles increased.
In the National League, Mark Reynolds inspired the Central Division-leading Milwaukee Brewers to their 9-5 victory over Miami Marlins by slugging a pair of two-run homers, connecting in the fourth and fifth innings.
Atlanta Braves, top in the NL East, were 3-2 home winners against Colorado Rockies, while elsewhere Los Angeles Dodgers edged a 2-0 win over Philadelphia Phillies, aided by a Clayton Kershaw home run.
Todd Frazier's three-run homer guided Cincinnati Reds to a 5-3 win over St Louis Cardinals, San Diego Padres enjoyed an 11-1 romp against Chicago Cubs, and Pittsburgh Pirates were 4-3 victors over Washington Nationals.
San Francisco Giants, who head the NL West, bossed the night's interleague tussle as home runs from Pablo Sandoval and Brandon Hicks nudged them towards a 6-2 win against Minnesota Twins.