MLB: Career first for Wil Myers as Tampa Bay Rays thump the New York Yankees
Last Updated: 05/05/14 6:01am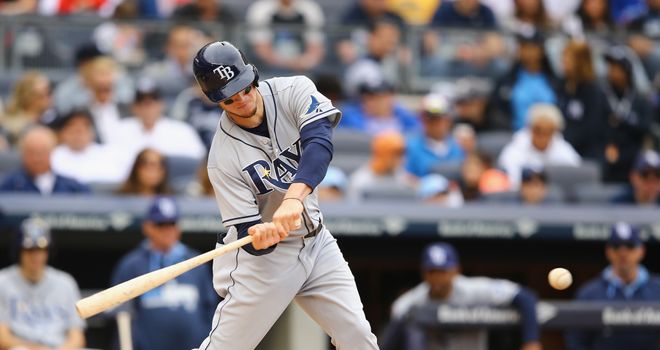 Wil Myers hits an inside the park home run against the New York Yankees
Wil Myers hit a three-run inside-the-park home run to power the Tampa Bay Rays to a 5-1 victory over the New York Yankees.
Myers had hit a deep shot to centre field, where Jacoby Ellsbury collided with the wall trying to make a catch. The ball got away, giving Myers all the time he needed to score his first career inside-the-park homer.
Myers finished with four RBI in the game while Erik Bedard collected his first win as a starter since last June.
Despite the loss the Yankees remain half a game clear at the top of the American League East standings after ex-Yankee Phil Hughes pitched the Minnesota Twins to a 5-2 win over the Baltimore Orioles. Hughes gave up two runs and six hits in 6 1/3 innings.
Justin Verlander took a no-hitter into the sixth inning and took his fourth straight win as the Detroit Tigers completed a sweep of the Kansas City Royals with a 9-4 win.
The Oakland Athletics protected their two-game lead atop the AL West with a 3-2 win over the Boston Red Sox, but they needed extra innings to do it with Yoenis Cespedes driving in the winning run with an infield single in the 10th.
The Texas Rangers kept pace with a 14-3 rout of the Los Angeles Angels, with JP Arencibia and Michael Choice going deep.
Supremacy
Dayan Viciedo's three-run homer in the ninth inning lifted the Chicago White Sox to a 4-3 win over the Cleveland Indians, while Robinson Cano and Willie Bloomquist had a pair of RBI each in an 8-7 win for the Seattle Mariners over the Houston Astros.
In Interleague play, Colby Rasmus' grand slam powered the Toronto Blue Jays to a 7-2 win over the Pittsburgh Pirates.
The National League-leading Milwaukee Brewers fell to a second consecutive loss as they went down to the Cincinnati Reds 4-3 in 10 innings, allowing the San Francisco Giants to threaten their supremacy on the Senior Circuit as they beat the Atlanta Braves 4-1 for their 20th victory of the season.
Brandon Crawford had a pair of home runs as the Giants won their fifth straight, while the Braves lost for the sixth consecutive time.
Jeff Baker's RBI double in the ninth lifted the Miami Marlins to a 5-4 win over the Los Angeles Dodgers, while San Diego also scored in the final frame to beat the Arizona Diamondbacks 4-3, their first win in five attempts.
Dillon Gee tossed six scoreless innings as the New York Mets beat the Colorado Rockies 5-1, while Roberto Hernandez went even further, allowing just four hits in 7 1/3 innings as the Philadelphia Phillies edged out the Washington Nations 1-0.