MLB: The Tampa Bay Rays record 2-1 and 6-5 victories over the Boston Red Sox
Last Updated: 02/05/14 7:11am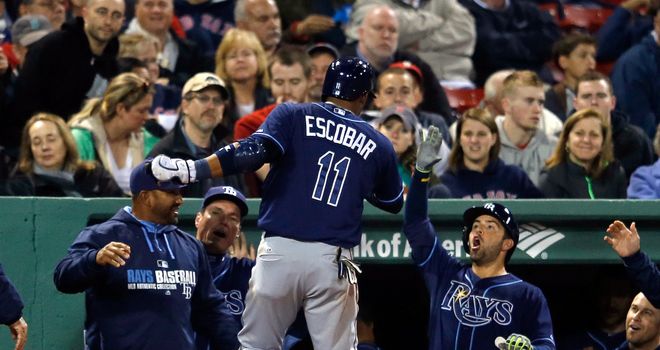 Yunel Escobar celebrates after hitting a home run in the ninth inning against the Boston Red Sox
The Tampa Bay Rays took both games of a Fenway Park doubleheader against the Boston Red Sox to move level with their opponents in the American League East.
David DeJesus powered the Rays to a 2-1 victory in the opener, hitting a homer and then walking with the bases loaded, while Yunel Escobar's ninth-inning blast sealed a 6-5 win in the nightcap as the Rays survived a five-run fifth from the Red Sox.
The two teams move level at the foot of the AL East, three games back on the division-leading New York Yankees who suffered a 4-2 home loss to the Seattle Mariners.
Robinson Cano drove in two runs on his old Yankee Stadium stomping ground, but the night belonged to rookie pitcher Roenis Elias, who held the Yankees to one earned run in seven innings.
That allowed Baltimore to move a half-game back with two wins over the Pittsburgh Pirates, 5-1 and 6-5, while the Toronto Blue Jays beat the Kansas City Royals to keep pace.
Homers
In yet another doubleheader caused by Wednesday's rain, the Los Angeles Dodgers took back-to-back wins over the Minnesota Twins, closing the gap to the San Francisco Giants to half a game at the top of the National League West.
Yaisel Puig and Juan Uribe had four hits each in the opening 9-4 win, before homers from Scott Van Slyke and Drew Butera settled the second contest 2-1 in the 12th inning.
The Colorado Rockies are a further half-game back on the Dodgers after beating the New York Mets 7-4.
The Miami Marlins completed a sweep of the NL East-leading Atlanta Braves with a 5-4 win while the Cincinnati Braves slowed the NL Central-topping Milwaukee Brewers with an 8-3 victory.