MLB: More misery for Cleveland Indians after heavy loss to Los Angeles Angles
Last Updated: 01/05/14 11:40am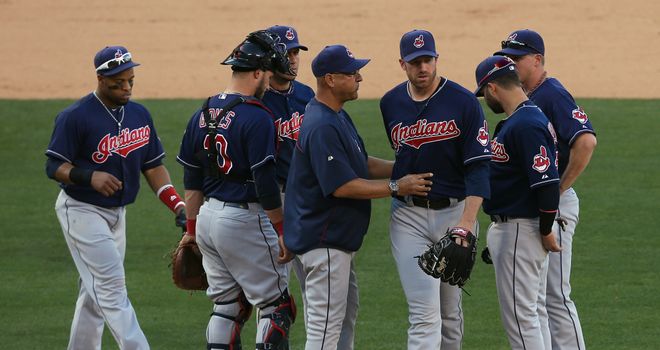 Cleveland Indians starting pitcher Zach McAllister (third from right) is taken out of the game
The Cleveland Indians slumped to a sixth successive loss as they were beaten 7-1 by the Los Angeles Angles.
Hank Conger hit a two-run homer and Mike Trout registered a two-run double against the out-of-form side.
Bryan Holaday scored a two-run double in a four-run fourth innings as the Detroit Tigers beat the Chicago White Sox 5-1, while the Oakland A's drubbed the Texas Rangers 12-1 with a seven-run third the highlight.
Anthony Rizzo walked four times but struck a two-run homer and then added two more runs as the Chicago Cubs beat the Cincinnati Reds 9-4.
Aaron Harang's recent form came to an end as he conceded a three-run shot to Marcell Ozuna and a homer to Christian Yelich as the Miami Marlins saw off the Atlanta Braves 9-3.
Whitewashed
The Los Angeles Dodgers shaded the Minnesota Twins 6-4 and Antony Rendon had four hits and three RBIs as Washington whitewashed Houston 7-0.
The St Louis Cardinals enjoyed a 9-3 success against the Milwaukee Brewers and Alcides Escobar hit a game-winning double in the seventh to help the Kansas City Chiefs to a 4-2 win against the Toronto Blue Jays.
Miguel Montero won it for Arizona in the 10th against Colorado, 5-4, while the San Francisco Giants nudged the San Diego Padres 3-2.
Incelement weather accounted for the slated games between New York Mets and Philiadelphia, Pittsburgh and Baltimore, Seattle and the Yankees and Tampa Bay and the Red Sox.