MLB round-up: Tampa Bay Rays thrash New York Yankees 16-1
Last Updated: 20/04/14 9:23am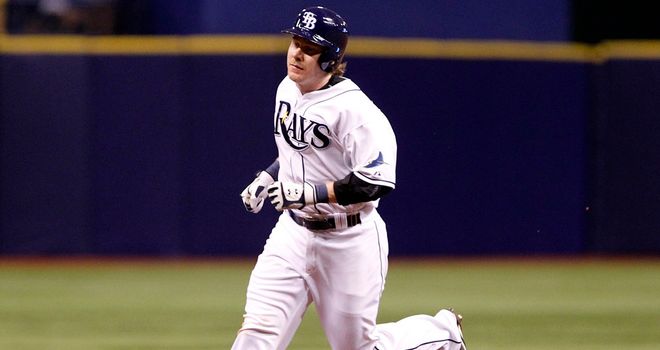 Ryan Hanigan: Hit two home runs and six RBIs against Yankees
Two home runs from Ryan Hanigan, as well as six RBIs, helped the Tampa Bay Rays to a thumping 16-1 victory against a woeful New York Yankees.
Hanigan was in fine form as were Wil Myers and Evan Longoria, both of whom drove in four runs in a clinical display from the Rays.
Pitcher Chris Archer was also a star performer, allowing just one run and three hits to take his record against the Yankees to four wins from as many career starts.
The Houston Astros' recent slump continued after the Oakland Athletics rallied in the ninth inning to edge to a 4-3 victory.
The Astros appeared on course to end a five-game losing streak, leading 3-1 going into the ninth, but a three-run inning, capped by Josh Reddick's walk-off single sent them spiralling to another defeat.
The Detroit Tigers ended a 10-game losing streak against the Los Angeles Angels with a 5-2 win, with homers from Nick Castellanos and Victor Martinez proving crucial, while Max Scherzer struck out nine in seven innings.
Braves beat Mets
A three-run homer from Justin Upton in the ninth inning was key as the Atlanta Braves beat the New York Mets 7-5.
Ryan Braun slugged two homers, including a two-run shot with two outs in the ninth inning, to seal an 8-7 victory for the Milwaukee Brewers against the Pittsburgh Pirates.
Both the Kansas City Royals and the Texas Rangers earned their fifth successive win. The Royals squeezed past the Minnesota Twins 5-4 following a five-run fifth-inning, while pitcher Colby Lewis claimed his first win in nearly two years as the Rangers defeated the Chicago White Sox 6-3.
The Los Angeles Dodgers stormed back from an early four-run deficit to beat the Arizona Diamondbacks 8-6, thanks in part to Andre Ethier's three-run homer, and Mark Buehrle pitched a shutout into the eighth inning as the Toronto Blue Jays cruised past the Cleveland Indians 5-0.
The St Louis Cardinals scored three unearned runs to edge past a nervy Washington Nationals side 4-3, the San Diego Padres beat the San Francisco Giants 3-1 to hand Matt Cain his third consecutive defeat and a tiebreaking triple in the seventh inning from Brock Holt gave the Boston Red Sox a 4-2 win over the Baltimore Orioles.
Justin Morneau drove in two runs in the Colorado Rockies' 3-1 win over the Philadelphia Phillies, Darwin Barney and Welington Castillo each hit two-run homers in the Chicago Cubs' 8-4 victory over the Cincinnati Reds and Marcell Ozuna's three-run homer was the highlight in the Miami Marlins' 7-0 triumph over the Seattle Mariners.