MLB: Atlanta Braves make it five straight wins after beating Philadelphia Phillies
Last Updated: 17/04/14 10:01am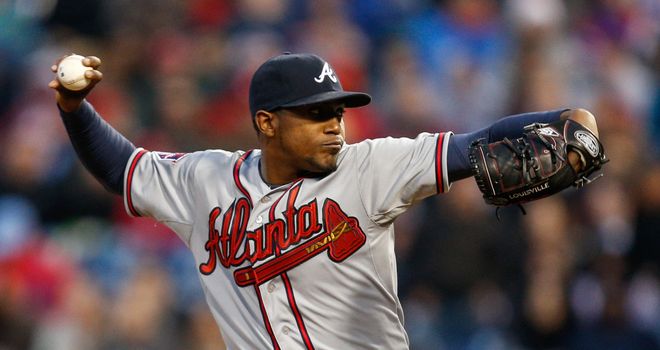 Julio Teheran threw a three-hit shut-out for Atlanta in Wednesday's 1-0 win over the Phillies
Atlanta pitcher Julio Teheran threw a three-hit shut-out and Evan Gattis homered as the Braves claimed their fifth straight win with a 1-0 victory over the Philadelphia Phillies.
Teheran's brilliance helped the Braves maintain their winning run to remain top of the National League East with 10 wins this season, opening up a 1.5 game lead over Washington.
In second, Washington Nationals kept the pressure on as home runs by Jayson Werth and Zach Walters powered them to a 6-3 comeback triumph over the Miami Marlins at Marlins Park.
Oakland Athletics, leaders in the West division, suffered a 5-4 defeat against Los Angeles Angels, whose come-from-behind win was inspired as Chris Iannetta powered a home run over Craig Gentry and over the centre-field fence.
Wednesday's MLB results:
Diamondbacks 2 Mets 5
Orioles 3 Rays 0
White Sox 4 Red Sox 6
Reds 4 Pirates 0
Tigers 2 Indians 3
Astros 4 Royals 6
Angels 5 Athletics 4
Marlins 3 Nationals 6
Brewers 5 Cardinals 1
Twins P Blue Jays P
Yankees 3 Cubs 0
Phillies 0 Braves 1
Padres 4 Rockies 2
Giants 2 Dodgers 1
Rangers 3 Mariners 2
At the top of the American League East, New York Yankees claimed a fourth-straight win as they moved past the Chicago Cubs 3-0 with Anthony Rizzo getting on the scoresheet with two hits.
Winning ways
Boston Red Sox returned to winning ways as Jackie Bradley Junior's two-run double set up a 6-4 victory over Chicago White Sox to snap their three-match losing streak.
Pablo Sandoval scored his second single of the game to end a seventh-inning tie and propel West leaders San Francisco Giants to a 2-1 victory over Los Angeles Dodgers.
Elsewhere, Arizona Diamondbacks suffered a 5-2 defeat to New York Mets, Baltimore Orioles comfortably beat Tampa Bay Rays 3-0, Cincinnati Reds recorded a 4-0 triumph over Pittsburgh Pirates and Cleveland Indians saw off Detroit Tigers 3-2.
Kansas City Royals were conquerors in a 6-4 result over the Houston Astros, Milwaukee Brewers overcame St Louis Cardinals 5-1, San Diego Padres claimed a 4-2 win over Colorado Rockies and Texas Rangers beat Seattle Mariners 3-2.