MLB: Baltimore Orioles hammer New York Yankees; San Francisco Giants win home opener
Last Updated: 09/04/14 11:59am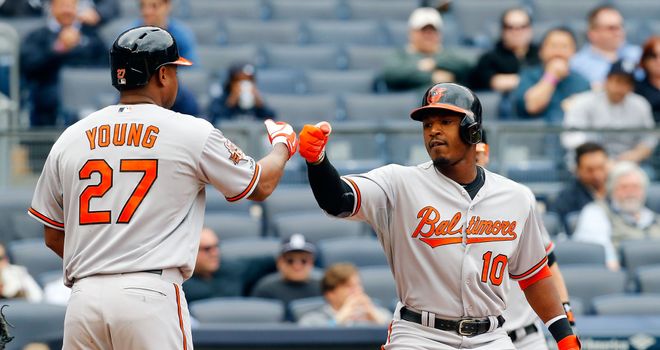 Delmon Young (left) and Adam Jones: Baltimore Orioles duo both hit home runs
Baltimore Orioles cruised to a 14-5 victory over New York Yankees on Tuesday.
The Orioles scored their runs on 20 hits against Ivan Nova, with Adam Jones, Matt Wieters and Delmon Young all homering at Yankee Stadium.
San Francisco Giants marked their first home game of the season with a win, seeing off Arizona Diamondbacks 7-3.
Brandon Belt set the tone, homering off Trevor Cahill who conceded five runs.
Washington Nationals kept Miami scoreless in a 5-0 win, while a three-run homer from David Murphy helped the Cleveland Indians to an 8-6 win over San Diego Padres.
Toronto got the better of Houston 5-2, with Melky Cabrera scoring a home run for the fourth game running.
New York Mets ruined Atlanta Braves' first home game of the season with a 4-0 on-the-road success, while Russell Martin scored in the eighth inning to earn Pittsburgh Pirates a 7-6 victory over Chicago Cubs.
The Cubs had trailed early on but Starlin Castro got them back on track before Martin won it.
Texas Rangers saw off Boston Red Sox in a high-scoring affair, winning 10-7, while Ryan Braun had a three-homer game as Milwaukee Brewers got past Philadelphia 10-4.
Elsewhere, a late single from James Loney earned Tampa Bay Rays a 1-0 success over the Royals, and Chiacgo White Sox battered the Rockies 15-3.
LA Dodgers won 3-2 against Detroit, Seattle got the better of LA Angels 5-3 as Corey Hart hit two homers, and St Louis Cardinals recovered from 4-0 down to best the Cincinnati Reds 7-5.