MLB: Chris Tillman outpitches Justin Verlander as Orioles beat the Tigers
Last Updated: 07/04/14 10:18am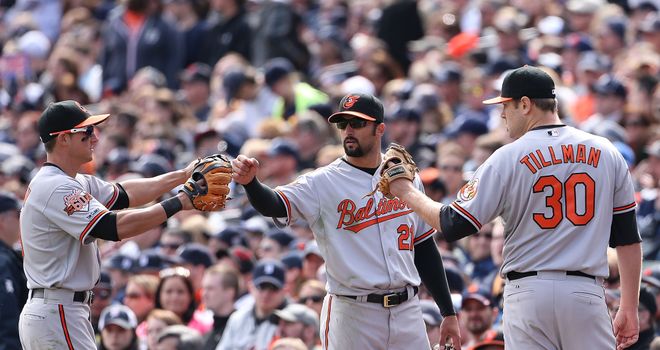 Baltimore's Chris Tillman outpitched Justin Verlander in Sunday's win over the Tigers
Chris Tillman outpitched Justin Verlander as the Baltimore Orioles beat the Detroit Tigers 3-1 on Sunday, handing Major League Baseball's last undefeated team its first loss.
Tillman (1-0) gave up five hits, including Torii Hunter's solo homer in the fourth, in 8 1/3 innings. Tommy Hunter entered with one out in the ninth and Victor Martinez on second base and retired the last two batters for his second save.
Verlander (0-1) gave up two runs on five hits and two walks over eight innings. He struck out three, moving past Tommy Bridges into fourth place on the Tigers' all-time list with 1,674 in his career.
Elsewhere in the AL, Texas' Yu Darvish (1-0) allowed seven hits over seven innings in his season debut and Elvis Andrus hit a two-run homer to lead the Rangers past the Tampa Bay Rays 3-0.
Sunday's MLB results:
Indians 7 Twins 10
Blue Jays 4 Yankees 6
Tigers 1 Orioles 3
Mets 1 Reds 2
Marlins 2 Padres 4
Nationals 2 Braves 1
Red Sox 0 Brewers 4
Pirates 2 Cardinals 1
Bay Rays 0 Rangers 3
Astros 7 Angels 4
Royals 1 White Sox 5
Cubs 8 Phillies 3
Athletics 6 Mariners 3
Rockies 3 Diamondbacks 5
Dodgers 6 Giants 2
The Japanese star got his 500th career strikeout, coming in 401 2/3 innings, by fanning David DeJesus and Wil Myers in the first. According to the Rangers, it is the fewest innings for a starter to reach 500 strikeouts in MLB history.
The Yankees' CC Sabathia pitched six innings for his first victory of the season as New York topped the Toronto Blue Jays 6-4.
Sabathia (1-1) allowed four runs and seven hits, walked none and struck out six. Brett Gardner hit a two-run home run for the Yankees.
The Boston Red Sox's slow start to the season continued with a 4-0 loss to the Milwaukee Brewers. Yovani Gallardo (2-0) made his second straight scoreless start as Milwaukee completed a three-game sweep.
The World Series champion Red Sox, who never had a losing record last year, fell to 2-4 and matched their longest skid of 2013. They were swept just once last season.
Elsewhere
In other AL games, Minnesota Twins outslugged Cleveland Indians 10-7, Houston Astros ended a three-game losing streak with a 7-4 win over Los Angeles Angels, Chicago White Sox topped Kansas City Royals 5-1, and Oakland Athletics beat Seattle Mariners 6-3.
In the NL, Ian Desmond led off the seventh inning with a home run the only run of the game scored on a hit as the Washington Nationals and their makeshift line-up avoided a sweep with a 2-1 win over the Atlanta Braves.
Desmond ripped a fastball from Alex Wood (1-1) well into the left field bleachers, the Nationals' first hit of the game since the first inning.
Taylor Jordan allowed one run over 6 2/3 innings, working out of several jams along the way, and Jerry Blevins (1-0) retired two batters in the seventh to get the win.
Pittsburgh's Tony Sanchez hit a tie-breaking RBI double in the seventh inning as the Pirates edged the St Louis Cardinals 2-1.
The hit was Sanchez's second game-winning hit of the week after he singled home the winning run in the 16th inning of Wednesday's victory over the Chicago Cubs.
In Chicago, Ryan Kalish hit a two-run double and an RBI triple as the Cubs avoided a sweep by topping the Philadelphia Phillies 8-3.
A.J. Burnett (0-1), who signed a one-year, $16 million contract with the Phillies after he spent the last two seasons with the Pirates, allowed eight runs, four earned, in 5 2/3 innings. He struck out three but walked six.
In other NL games, San Diego Padres got a 4-2 win over Miami Marlins, Cincinnati Reds defeated New York Mets 2-1, Arizona Diamondbacks beat Colorado Rockies 5-3, and Los Angeles Dodgers topped San Francisco Giants 6-2.