Boat Race: Oxford University beat Cambridge by 11 lengths after clash
Last Updated: 06/04/14 8:53pm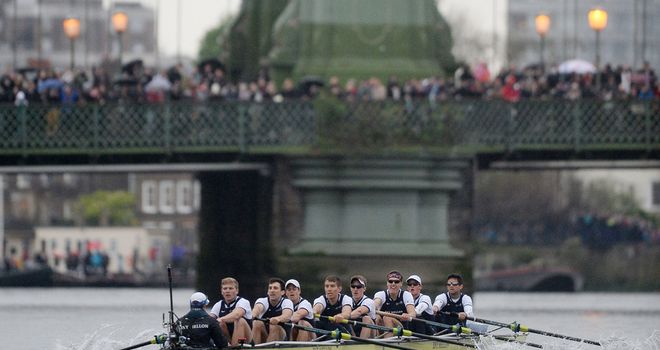 Victorious crew: Oxford won 2014 Boat Race
Oxford University beat Cambridge by 11 lengths in the biggest victory since 1973 to win the 160th BNY Mellon Boat Race, extending their dominance with their fifth triumph in seven years.
Hot favourites the Dark Blues - who won the toss and opted to start from the Surrey Station, the south side of the Thames - had already sneaked a lead ahead of Hammersmith Bridge when the decisive moment of the race came as the two crews clashed near the Harrods Depository.
The clash broke Cambridge's Luke Juckett's rig, leaving the American's oar dragging underwater for more than half the race and Oxford then coasted to victory.
While Cambridge protested against the result, umpire Richard Phelps threw out the complaint from cox Ian Middleton.
"It is very tragic, but that's the Boat Race: if you want an easy, clean Boat Race, go to Lucerne and race it in July on flat water."
Race umpire Richard Phelps
Umpire Phelps stood by his decision after the race, saying it is now final, and not subject to any further appeal, despite Cambridge coach Steve Trapmore suggesting he would ask for race footage to be reviewed.
Phelps said: "From my perspective Oxford were on their proper station, quite clearly, I had warned him, he had moved and was on his proper station.
"So for there to have been contact it can only have been neutral water or at the very worst Cambridge were off their station.
"I don't know if they will ever accept that result, I told them I was overruling their appeal and my advice was that they congratulate the winners, which their president then duly did.
"It is very tragic, but that's the Boat Race: if you want an easy, clean Boat Race, go to Lucerne and race it in July on flat water.
"The Boat Race is on a bendy river with twists and turns, and disagreements about where the stream is, that's why it's interesting and that's why umpiring it is one of the most challenging but fascinating tasks you can ever take on."
Accepted decision
Boat Race debutant Juckett accepted the decision, while admitting there was no way Cambridge could mount a competitive challenge once his equipment was so severely damaged.
"It was a pretty basic clash, you know it's going to happen, we all knew it's a possibility it could happen," said the 23-year-old St Edmunds College Natural Sciences student.
"There's no real way to prepare for something like that, however I believe it was Sam O'Connor (Oxford seven seat), his blade or whatever, he caught my blade and turned it into the water.
"And that happens, there's no way to correct it once it happens.
"We were going one way and the water was going the other, so it catches your blade, it just punched me in the chest basically.
"It took me out not only did it wrench my blade out of my hands, it was bent, and my rig was broken by the end of the race.
"So for the rest of the race it was dragging my blade under water, so it's really hard to keep rowing when that happens."
The win was coach Sean Bowden's 10th victory in 15 years in charge of the Dark Blues and it meant the race has now been won by the crew taking the south bank for the fourth year in succession.
Oxford have cut Cambridge's overall lead to 81-78 in the series between the two famous rivals, with just the one tied affair still in the overall standings.