MLB: Adam Wainwright on form for St Louis Cardinals on Opening Day
Last Updated: 01/04/14 8:17am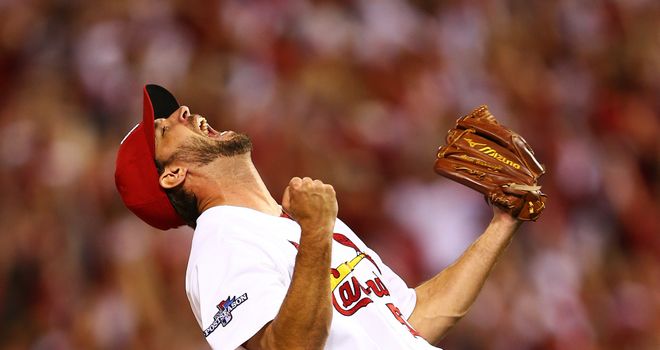 Adam Wainwright: Cracking start to season for Cardinals ace
Adam Wainwright pitched a gem for the St Louis Cardinals as they took a 1-0 win over the Cincinnati Reds on Opening Day.
Wainwright struck out nine in seven scoreless innings and secured victory when catcher Yadier Molina hit a seventh inning home run off unlucky loser Johnny Cueto.
In contrast, runs were easy to come by in Arlington where the Philadelphia Phillies opened the season with a 14-10 win over the Texas Rangers.
Jimmy Rollins hit an early Grand Slam, Ben Revere had three RBIs and Chase Utley and Cody Asche had three hits for the Phillies with Cliff Lee claiming the win despite giving up eight runs in five innings.
The San Francisco Giants came out on top 9-8 in a thrilling contest with the Arizona Diamondbacks, catcher Buster Posey hitting a two-run homer in the ninth inning to give them the lead after being 7-3 down.
Alejandro de Aza hit a career-high 17 home runs in 2013 and started his 2014 campaign with two more in a 5-3 win for the Chicago White Sox over the Minnesota Twins.
There were extra innings at Citi Field but the New York Mets dropped a 9-7 decision against the Washington Nationals, with second baseman Anthony Rendon hitting the vital three-run homer.
Fruitful
An Alex Gonzalez single in the bottom of the ninth earned the Detroit Tigers a 4-3 win over the Kansas City Royals.
Nelson Cruz enjoyed a fruitful Baltimore Orioles debut with the go-ahead home run in their 2-1 win over the reigning World Series champions the Boston Red Sox.
Matt Joyce batted in three runs for the Tampa Bay Rays, who opened the season with a 9-2 hiding of the Toronto Blue Jays, who lost star shortstop Jose Reyes to a hamstring injury after only one at-bat.
Jose Fernandez struck out nine Colorado Rockies batters as the Miami Marlins kicked off the season with a 10-1 success.
Yovani Gallardo pitched six strong innings for the Milwaukee Brewers in a 2-0 win over the Atlanta Braves and Neil Walker's 10th inning home run earned the Pittsburgh Pirates a 1-0 decision over the Chicago Cubs.
And there was late drama in Oakland where new closer Jim Johnson had a debut to forget, giving up both Cleveland Indians runs in the top of the ninth in a 2-0 reverse.