Oscar Pistorius returns to court as State prepares to conclude case against him
Last Updated: 24/03/14 10:48am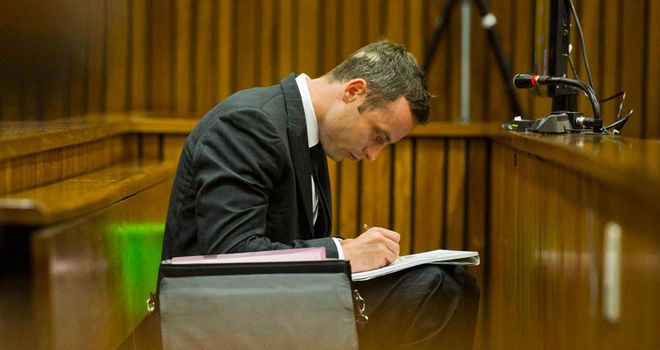 Oscar Pistorius: Back in court on Monday morning
Oscar Pistorius returns to court this morning with the State expected to call new witnesses.
Prosecutors are expected to wrap up their case against the Paralympic star by the end of this week by calling five more witnesses to the stand.
The trial at North Gauteng High Court in Pretoria was adjourned last Wednesday when State prosecutor Gerrie Nel asked the judge for extra time to talk to witnesses.
Pistorius shot and killed his girlfriend Reeva Steenkamp at his Pretoria home on Valentine's Day last year.
Pistorius admits killing her, but he claims he believed he was shooting a burglar.
Prosecutors had originally listed 107 witnesses but if - as expected - they only call five more, just 20 would have taken the stand.
The murder trial will now run until May 16 after all parties agreed to a week's recess in early April.
Proceedings began on March 3 and will now break for a week from April 7, a statement from the court authorities said on Sunday.