Olympic sprinter Jeanette Kwakye has formally announced her retirement from athletics
Last Updated: 15/01/14 12:35pm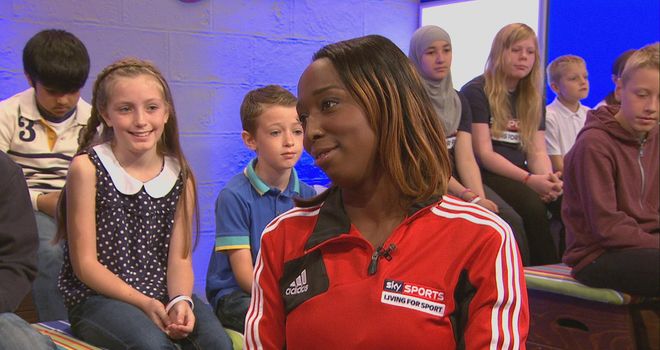 Kwayke will continue her work as a Sky Sports Living for Sport Mentor
Olympic sprinter Jeanette Kwakye has formally announced her retirement from athletics.
Kwayke was the first British woman in 24 years to make the 100m final in Beijing and placed sixth and remains the British record holder over 60m.
However a string of injuries kept her out of the London 2012 Olympics despite maintaining her position as British number one across 100m during 2011.
The sprinter said her highs in the sport will far outweigh the lows and she is looking forward to starting a new chapter in her career.
"It is with a little bit of sadness, but a huge amount of excitement that I officially announce my retirement from Athletics," Kwayke said on her official website.
"Of course there were massive lows, but the highs will always outweigh them and make me smile when I think about some of the things I have been able to do.
"My career highlight was running a personal best time in the 2008 Olympic 100m final in Beijing, closely followed by becoming the English Schools Under 15 100m champion in 1997- where it all began!"
The sprinter and current Sky Sports Living for Sport Mentor thanked her coach of ten years Michael Afilaka and said she is exploring a new career in journalism.
"I am hoping to use the skills that I have learnt by continuing my work with the Youth Sports Trust and Sky Sports. I am also pursuing a new career in journalism," Kwayke said.
"I wish the next generation of female sprinters all the very best and I especially look forward to seeing them reach their full potential."