Carlos Burle conquers 100ft wave to set new world record
Last Updated: 29/10/13 11:16pm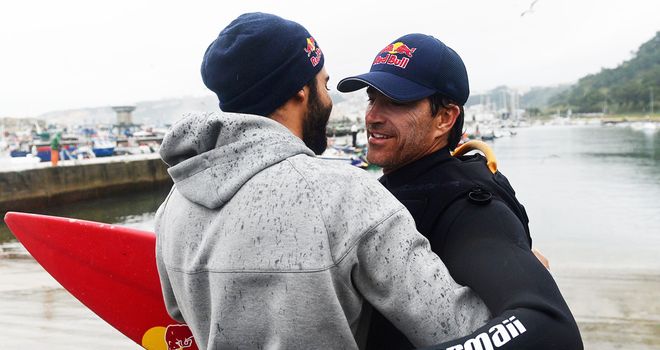 Carlos Burle (right) is congratulated after his record ride
A Brazilian has surfed what could be the biggest wave ever - a 100ft monster off the coast of Portugal - shortly after saving his friend's life.
Carlos Burle conquered the wave, which is estimated to be 20ft taller than the one surfed by Garrett McNamara in 2011, off the coast near Nazare.
A British surfer, Andrew Cotton, was surfing at the same time and conquered a similarly huge wave, but Burle's was reportedly the highest.
Incredibly, minutes earlier he had saved the life of his friend Maya Gabeira who almost drowned when she fell from her board and broke her ankle.
She was resuscitated on the beach and taken to hospital and recovered.
The huge wave was caused by the same storm which battered Britain on Sunday night.
Burle told Surfer Today: "It was luck. We never know when we will be catching the wave. I still hadn't surfed any wave and everyone had already had their rides.
"Maya almost died. For me, it was a big adrenaline moment to get back there after what happened.
"I'm good. Maya is good too. That's the most important thing. It was a crazy day. I nearly lost my friend, Maya. It was terrible. I don't think I've been so scared in my whole life. She has a broken ankle but she's alive."