Sportswomen: Skeleton ace Shelley Rudman's sights set on Sochi gold
Last Updated: October 30, 2013 7:56pm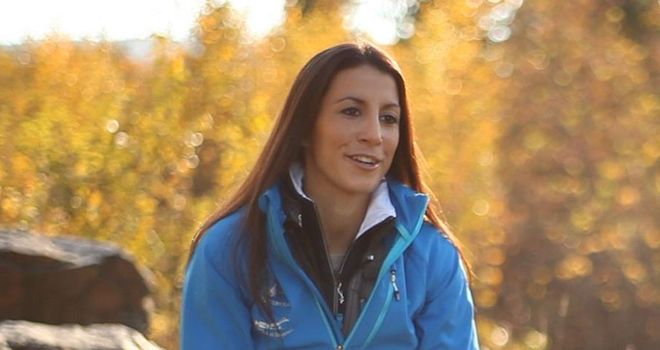 Shelley Rudman: Targeting gold at Sochi 2014
Shelley Rudman has been a permanent fixture on the Great Britain skeleton circuit for more than a decade - but she has one goal still to achieve.
Rising to prominence as the World Student Games Champion in 2002, Rudman has gone on to win almost every major title in her sport.
Olympic Gold is the one medal that eludes her. With the Sochi Winter Olympics getting underway in 100 days, Rudman - mother, wife and supreme competitor - sees this as her golden opportunity to fulfull her destiny.
"I've been really fortunate in that I have been able to win a medal at most of the championships that I have competed at," she told Sportswomen, Sky Sports' new weekly show dedicated to women's sport.
"I can't guarantee that I will come back with a gold medal of course. Progression for me is to try and come out of the sport as one of the most successful skeleton athletes ever.
Shelley Rudman speaks to Sky Sports about her preparations ahead of the Winter Olympics in Sochi.
"I appreciate that that that doesn't happen instantly and that I will have to keep with the sport for a number of years for that to happen and for me to achieve everything that I want to do."
Rudman hurtles down the track in fearless fashion, face-first at breakneck speeds, and is happy to divulge some - but not all - of her trade secrets.
"We twist our body to move and manipulate the sled," she said. "A little touch of the toes is a corrective steering manoeuvre but you try and get you lines on the track right from very start so you are not trying to correct a problem.
"You've got the runners and these are the part of the sled in contact with the ice so it's a metal bar and further up is a knife edge which I can't show you just yet.
"It's a really important year and everyone keeps their trade secrets to themselves so I can't show you that. That's your advantage on the ice."
Rudman's husband Kristan Bromley is Britain's leading male skeleton slider and their six year-old daughter Ella travels with them as much as possible. That's exactly how Rudman likes it.
"I'm really proud of what we have gone through and how we work together as a team. We don't just go to the track and compete. There is a whole world that happens behind the scenes. There's the school run and fitting all the other logistcis in, like school holidays.
"We travel as a family and I home tutor Ella which means I go to the school and get mountains of school books.
"Sometimes I look at what we have done and I can't quite believe how we manage to do it."
"I see myself as a dual person - as a sportsperson and as a mum. I really love the mum role. I really enjoy the school run and picking Ella up in my sports kit too."
Her husband Bromley, the 2008 skeleton world champion, is equally proud of what they have achieved as a family.
"The proof is in the pudding," he said. "Shelley has had her best results, won a World Cup and become a world champion, so did I in 2008. All that happened while Ella was on the scene. Anyone who says you can't have children and have a professional career, well we have absolutely proved that wrong.
"Over the last 12 months has just been focus on that one event in Sochi, it really has been that way for four years.
"The target is to surpass the silver medal she won in Turin with the gold medal."
Andy Schmidt, the British skeleton head coach, believes Rudman has a great chance of fulfilling her destiny in Russia next year, with her family there to cheer her on.
"At the beginning I thought it was more of a distraction but that is what she needs," he said. "She needs her privacy and needs her family around her. She has had a little bubble round her and it helps her and we can see the results over the years."
Watch Sportswomen every Tuesday on Sky Sports News from 10.30am.