MLB World Series: Boston Red Sox manager John Farrell impressed with St Louis Cardinals
Last Updated: October 24, 2013 6:19am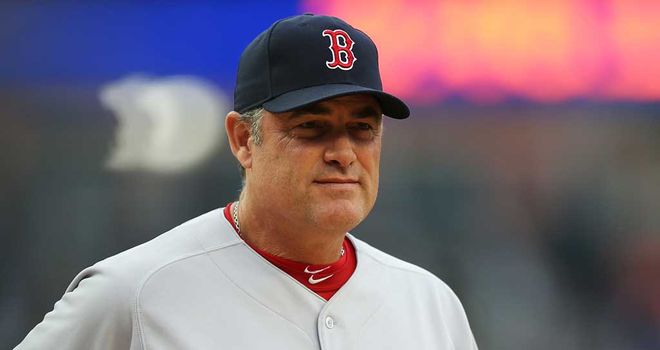 John Farrell: Impressed with Cardinals pitching depth
Boston manager John Farrell has admitted he has huge respect for St Louis as the top two regular season teams in Major League Baseball face off in the World Series.
Fenway Park is the venue for the first of the best-of-seven-game series on Wednesday, and Farrell concedes there is little to separate the Red Sox and the Cardinals.
Both topped their respective conferences with records of 97-65 in the regular season, and Red Sox boss Farrell is wary of the strength of the Cards' pitching rotation despite their relative inexperience.
Farrell an admirer of the Cardinals
Adam Wainwright, who has won 19 games this season, will go up against Jon Lester in the opening game, with Cards rookie Michael Wacha starting game two on the mound.
Joe Kelly and Lance Lynn are expected to start games three and four back in St Louis, with rookie 15-game winner Shelby Miller providing relief in the bullpen.
"We're going up against a very complete team," said Farrell, who has guided the Red Sox to the Fall Classic in his first season in charge. "We are still in our own process of getting familiar with them.
Pitching
"They have very good young pitching, very good pitching in general. What I've looked at so far, they're well-balanced, and obviously with men in scoring position they hit like no other team.
"They also like to put guys in motion with a hit-and-run quite a bit, and they just have a very complete team."
Farrell also confirmed that star slugger David Ortiz will play at first base when the series moves to St Louis for game three, when they will have to abide by the National League's ban on designated hitters.
Red Sox reach World Series
Ortiz will take the designated hitter's role for the first two contests at Fenway Park, and regular first baseman Mike Napoli will drop to the bench for game three.
"With David going to first base, which he will when we get to St. Louis, how many days he'll play in those three days there remains to be seen," Farrell said.
Disadvantage
"Losing the DH is different for us. Personally, when we go into National League ballparks we're at a greater disadvantage than the reverse of that when the National League teams come in here."
Napoli added: "It kind of stinks, but it's what it is. I understand the situation, but I'm pretty sure I'll be in there late in the game for defence and maybe get an at-bat. It is what it is and we'll deal with it."
Farrell also hinted that Jonny Gomes will retain his starting place after he impressed in place of Daniel Nava in games five and six of the AL Championship series against Detroit.
Gomes hit a lead-off double that helped set-up a crucial four-run seventh inning in game six as the Red Sox wrapped up a 4-2 series victory.
"We haven't made out Wednesday's lineup, but can't go away from a little bit of momentum that a certain lineup provided for us," Farrell said. "Daniel Nava certainly not forgotten, nor is any guy."