MLB: Boston Red Sox beat Detroit Tigers to move within one win of World Series berth
Last Updated: October 18, 2013 8:03am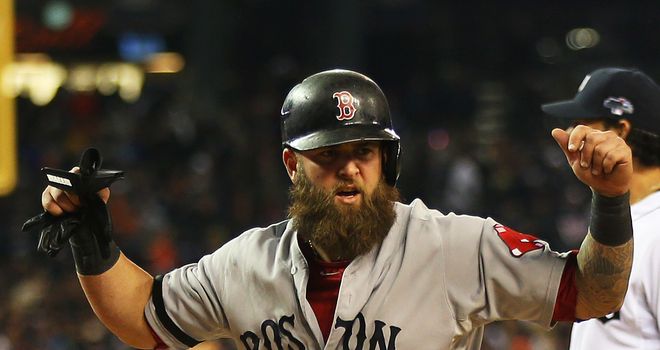 Mike Napoli: Home run held moved Red Sox to within sight of ALCS win
The Boston Red Sox moved to within one win of the World Series as they beat the Detroit Tigers 4-3 in game five of the American League Championship Series.
A home run from Mike Napoli off Anibal Sanchez came as part of a three-run second-inning for the Red Sox, who are now 3-2 ahead in the best-of-seven series.
Napoli had also launched a huge homer in the third game of the series but his latest effort helped Boston, who had led only four of 36 innings in the first four games, take charge early on this time.
It was also a good day for pitcher Jon Lester, who allowed just two runs and seven hits in five 1-3 innings as Boston held on despite almost letting a 4-0 lead slip.
The Red Sox will return to Fenway Park hoping to complete victory on Saturday.