MLB: St Louis Cardinals move clear of the Los Angeles Dodgers
Last Updated: 16/10/13 6:53am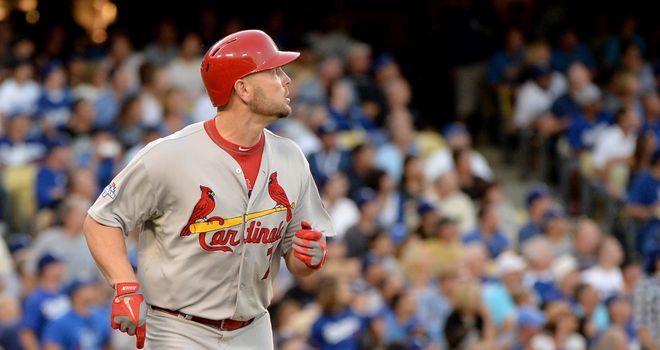 Matt Holliday hits a two-run home run for St Louis Cardinals
The St Louis Cardinals are just one win away from reaching the World Series after beating the Los Angeles Dodgers 4-2 in game four of the National League Championship Series.
Matt Holliday thumped a two-run homer as the Cardinals took a 3-1 lead in the best-of-seven series, with the Dodgers unable to follow up their victory 24 hours earlier.
A towering homer from Halliday, who had been hitless in 22 innings at Dodger Stadium, off Ricky Nolasco in the third inning was the first of the NL Championship Series.
In a series that has been starved off strong offensive play, Shane Robinson made sure the Cardinals sealed victory with a pinch-hit homer in the seventh inning.
It meant the Dodgers scoring on a pair of RBI singles in the fourth inning, one from rookie Yasiel Puig, counted for very little and they now need to win the three remaining matches to reach the World Series.
The Boston Red Sox took the edge in their American League Championship Series with the Detroit Tigers after a 1-0 win in game three.
Mike Napoli's homer in the seventh inning proved the difference between the two sides, with John Lackey getting the better of fellow pitcher Justin Verlander.
Boston now lead the series 2-1 and will be looking to extend that record ahead of another clash in Detroit on Wednesday.