MLB: Carlos Beltran stars as St Louis Cardinals beat LA Dodgers in NLCS
Last Updated: October 13, 2013 2:20pm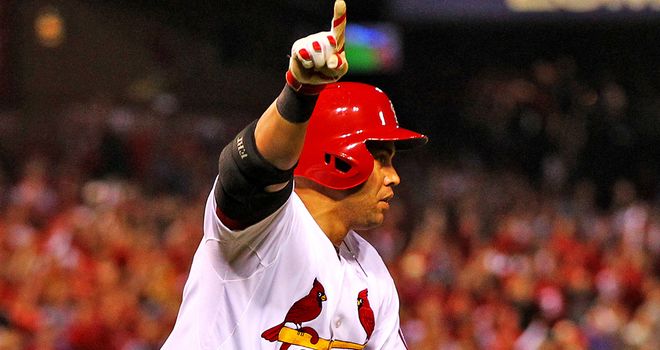 Carlos Beltran inspired the Cardinals to victory
Carlos Beltran used his bat and his arm to drive the St Louis Cardinals to a 13-inning 3-2 win over the Los Angeles Dodgers in game one of the National League Championship Series.
Juan Uribe put the Dodgers 2-0 ahead in the top of the third as he singled to drive in Hanley Ramirez and Adrian Gonzalez, but Beltran responded immediately with a two-run double.
Beltran produced a key defensive play in the bottom of the 10th as his throw gunned down Mark Ellis at the plate.
He then came up big again in the bottom of the 13th as he drove in the winning run off Dodgers closer Kenley Jansen to end the game after nearly five hours.
"Right down the middle," Beltran said of the pitch. "I don't blame him, because he was trying to make a pitch. He's behind the count and he's trying to make a pitch.
"But in that case, I was trying to hit the ball hard. I wasn't really looking for anything more than a hit.
"Today was a good game. That's what it's all about. We didn't want to lose, they didn't want to lose."
Despite the marathon contest not finishing until after midnight, game two of the series takes place in St Louis on Saturday.
After using seven pitchers in Friday's win, the Cardinals will send rookie pitcher Michael Wacha to the mound, while the Dodgers will start with Clayton Kershaw.