Toddler makes history as youngest Horse of the Year Show competitor
Last Updated: 10/10/13 2:34pm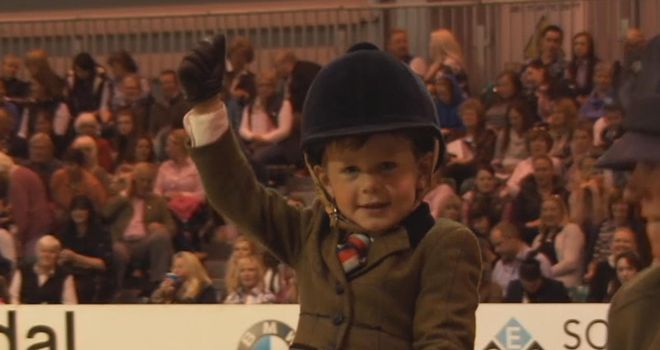 Three-year-old Harry Edwards-Brady becomes the youngest Horse of the Year Show rider in history.
The annual Horse of the Year Show opened this week with the debut of three-year-old Harry Edwards-Brady in the showing classes.
Harry had a successful day on Wednesday finishing seventh out of 23 starters in the Colne Mountain and Moorland Lead Rein class.
At just three, Harry becomes the youngest ever competitor at HOYS on his mother Emma Edwards-Brady's four-year-old Dartmoor, Moortown Divine, who, aged just five, gives the pair a combined age of eight.
Watch the video above to see how Harry's day went.
Sky Sports News also spoke to Show Jumper Laura Renwick about equality of the sexes in equestrianism, read the article here.
And don't forget you can catch all the action from the Horse of the Year Show live on Sky Sports: Thursday-Sunday from 8pm live on Sky Sports 4
Other Results
Showing:It was a real family affair in the Cuddy Supreme In-Hand Championship as Gareth William's 15-year-old Welsh Section C, Synod Lady Lillian, took the title with her five-month-old foal, Ringside Royal Flush by her side.
The Cuddy Working Hunter of the Year course looked as spectacular as ever. Amy James' Columbo Nimbus took the course on in style to claim the overall Championship title.
Show jumping:Philip Spivey is no stranger to collecting the Champion's spoils at Horse of the Year Show. In 2005, he won the Horse & Hound Foxhunter Championship with Romanov and this year he claimed the EquestrianClearance.Com Senior Newcomers title with Smirnov, the son of his previous champion.
Guy Williams, one of the show's British international riders, started off his week at HOYS with a national win in the Addington Manor Talent Seekers incorporating the 7 Year Old Championship with Zaire.
Newcastle's Melissa Gair, 21, claimed the British Showjumping Amateur Classic Championship with Bowes Calvaro, whom she has owned since he was a novice horse five years ago. Meanwhile, another young competitor, Chloe Aston, 19, won the Young Riders Championship of Great Britain.