New York Yankees pitcher Andy Pettitte to retire at end of season
Last Updated: 20/09/13 8:57pm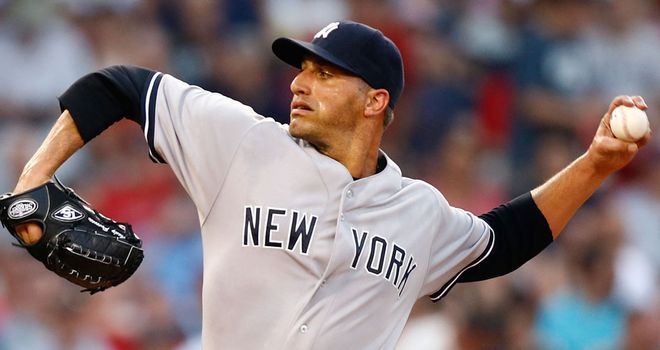 Andy Pettitte: Qutting for good at the end of the season
New York Yankees veteran Andy Pettitte has announced his retirement from Major League Baseball for a second time.
The 41-year-old pitcher originally quit the sport in 2011 before deciding to have a second stint with the Yankees.
But the left-hander has insisted this season will be his last as he calls time on a stellar career in which he has won five World Series titles with the Yankees.
Pettitte, who admitted in 2008 that he briefly used human growth hormones (HGH) in 2002 to speed up his recovery from injury, also reached the World Series with Houston in 2005.
His 218 wins for the Yankees ranks third in the club's history, just 18 behind the all-time record of Whitey Ford, while Pettitte's 19 wins, 44 starts and 276 innings pitched in play-offs are all Major League records.
"I'm announcing my retirement prior to the conclusion of our season because I want all of our fans to know now, while I'm still wearing this uniform, how grateful I am for their support throughout my career," Pettitte said.
"I want to have the opportunity to tip my cap to them during these remaining days and thank them for making my time here with the Yankees so special.
"I've reached the point where I know that I've left everything I have out there on that field. The time is right. I've exhausted myself, mentally and physically, and that's exactly how I want to leave this game."
Pettitte, who also holds the Yankees record for most career strikeouts, follows legendary reliever Mariano Rivera in retiring at the end of this season.
The Yankees are still in the hunt for an American League wildcard berth in this season's play-offs, but his final appearance at Yankee Stadium could be against San Francisco on Sunday, when the club will pay tribute to Rivera.
"One of the things I struggled with in making this announcement now was doing anything to take away from Mariano's day on Sunday," Pettitte added.
"It is his day. He means so much to me, and has meant so much to my career that I would just hate to somehow take the attention away from him."
Pettitte has a 10-10 record from 28 starts this season with an ERA of 3.93.