MLB: Hanley Ramirez inspires the Los Angeles Dodgers to title
Last Updated: 20/09/13 2:21pm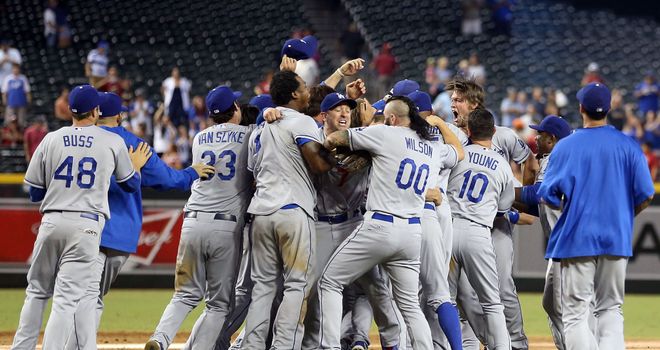 The Los Angeles Dodgers celebrate clinching the National League West title
The Los Angeles Dodgers completed the greatest comeback in franchise history to seal the National League West title with a 7-6 win over Arizona Diamondbacks.
Hanley Ramirez scored two home runs - his first giving the Dodgers a 3-0 lead - with his second tying the game at the top of the seventh innings after Arizona struck six in the third.
AJ Ellis wrapped up victory when he hit a home run leading off the eighth inning while facing Josh Collmenter in what was his third hit of the game.
Boston Red Sox needed just one win to reach the play-offs and they secured it with a 3-1 victory over Baltimore Orioles as John Lackey flirted with a no-hitter before settling for a complete game.
It is the first time Boston, who finished in last place a year ago, have made it to the post-season since 2009.
Colorado Rockies claimed a 7-6 15th-inning victory over St Louis Cardinals when Corey Dickerson's two-out triple tied the game in the eighth with his second RBI triple gave his side a walk-off victory in the 15th.
Battle
Cleveland Indians snatched a 2-1 win over Houston Astros in the 11th innings when Matt Carson hit a bases-loaded RBI single past diving second baseman Jose Altuve to let Yan Gomes score the winning run from third base at Progressive Field.
Chicago Cubs starter Jake Arrieta carried a shutout into the seventh innings, and backed by home runs from Luis Valbuena, Nate Schierholtz and Brian Bogusevic, helped his side to a 5-1 win over Milwaukee Brewers at Miller Park.
Pittsburgh Pirates claimed a 10-1 win over San Diego Padres to end a three-game losing run while Victor Martinez's RBI double in the seventh saw Detroit Tigers claim a 5-4 win over Seattle Mariners.
It was a battle of the pitchers at Citi Field but Giants starter Madison Bumgarner got the better of Jon Niese as he limited the New York Mets to one run over his seven innings as San Francisco won 2-1.
Washington Nationals moved to five games back in the NL Wild Card race after they beat Miami Marlins 3-2 while the New York Yankees fell three games back in Toronto in their bid to make up Wild Card ground as they were beaten 6-2 by the Blue Jays.
Texas Rangers hit four home runs to split a four-game set with the Tampa Bay Rays as they won 8-2 at Tropicana Field.