Rio 2016 Olympics: Scotland would send separate team to Rio
By Paul Higham Twitter: @SkySportsPaulH. Last Updated: 19/09/13 11:04am
Scotland ponder Rio plans
Scotland could be sending their own team to the 2016 Olympics in Rio if the population votes for independence next year.
The vote for independence takes place in exactly one year's time, with Scotland's Sports Minister Shona Robinson saying they will look to send a separate Scotland team to the Rio Olympics if the vote goes in favour of splitting.
Robinson says the country are well equipped to go it alone but how many Scottish Saltires would we see flying at medal ceremony time come Rio 2016 if they did send their own team?
Scottish 2012 medallists:
Gold
Sir Chris Hoy golds (keirin/team sprint)
Andy Murray (tennis)
Heather Stanning (coxless pair)
Katherine Grainger (double sculls)
Scott Brash (team show jumping)
Tim Baillie (Canoe C2)
Silver
Andy Murray (mixed doubles)
Michael Jamieson (200m breaststroke)
David Florence (Canoe C2)
Luke Patience (470 sailing)
Bronze
Emily Maguire (hockey)
Laura Bartlett (hockey)
Daniel Purvis (team gymnastics)
Scottish Olympians did have their best ever year at the Games, with 13 medals being handed out, but only three of those were won without the help of non-Scottish athletes as part of a team.
Of course, Britain's greatest-ever Olympian Sir Chris Hoy hails from Scotland, but even he needed his team sprint mates to grab the second of his two golds in London - although the keirin title was all of his own making.
Medals
Andy Murray won that epic gold at Wimbledon, and also added a mixed doubles silver alongside Laura Robson, while Michael Jamieson won silver in the 200m breaststroke as well.
Two Scots actually won two different medals in the same event with Tim Baillie and David Florence winning gold and silver with their respective partners in the men's C2 canoe slalom, so maybe come Rio they could team up to form a medal-winning duo.
Overall, 55 Scottish athletes made it into the 542-strong Team GB, with seven of them being returning home with a gold medal either individually or as part of a team.
So how would this translate to a separate Scotland team for Rio?
Well, Hoy will sadly no longer be around on his bike by then and that takes away not only Scotland but Britain's greatest Olympian out of the equation - meaning medals could be hard to come by.
Scotland already have international teams in football, cricket and both codes of rugby, while for the Commonwealth Games, which suitably enough takes place in Glasgow next year, will see the individual nations of Great Britain competing against each other, so why not also at the Olympics?
Splitting teams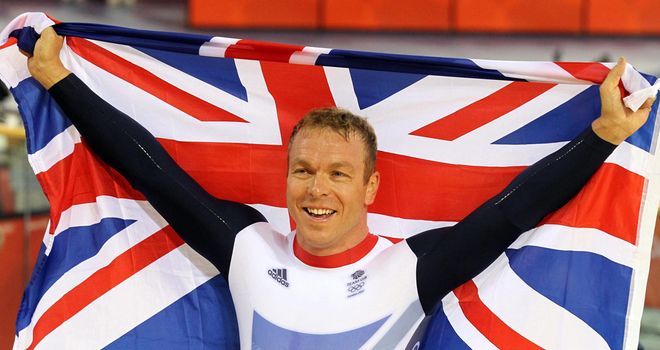 Sir Chris Hoy: Britain's greatest Olympian
A counter to that argument would be why successful teams or partnerships would want to break up and risk their chances of Olympic success?
Team GB hockey for instance currently have no problem making up their squads from home nations who play separately at other times, but would the Scots be forced to go it alone in Rio?
Robinson herself said that Scots would be encouraged to continue at their respective training bases if that's what they wanted, but if they were then to go and compete for a different nation after spending four years with their training teams that would surely do neither party any favours.
The spectre of funding must also come into the equation. Even after a successful London 2012 all round, new teams in sports such as handball, volleyball and the like are struggling to maintain funding levels and encourage participation to increase.
If they are struggling even as a unified Team GB, what chance would there be of continued growth and success if they had to split into another Scottish team - also scratching around looking for funding.
It may all not come to this, of course, if the vote goes against nationalists next year, but it is an intriguing question that would really take a huge amount of research to ensure that the sports and the athletes themselves do not lose out in it all.