MLB: Texas Rangers end losing run to kick-start wildcard bid
Last Updated: 18/09/13 10:47am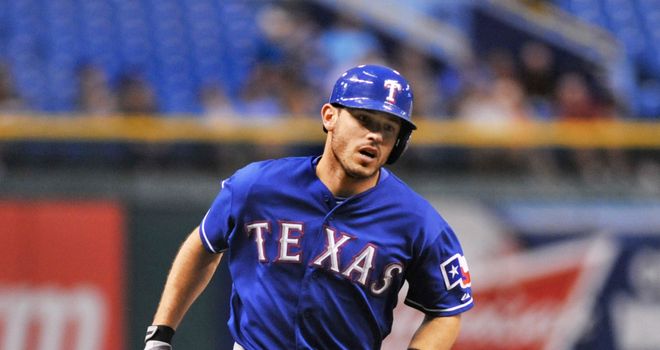 Ian Kinsler hit the opening pitch for a homer run for the Rangers
Texas Rangers are back in a tie with the Tampa Bay Rays for the top spot in the American League wildcard race after their 7-1 victory at Tropicana Field.
Ian Kinsler hit the first pitch of the game from Rays starter Jeremy Hellickson over the left-field wall to set Texas on their way to ending their seven-game losing run. Elvis Andrus scored a two-run homer and like Kinsler, drove in three.
After an emotional day on Monday which saw Washington Nationals postpone their match against Atlanta Braves in the wake of the Washington Navy Yard shootings, the Nats won both of their doubleheader games on Tuesday.
Tuesday's MLB results:
Diamondbacks 3 Dodgers 9Red Sox 2 Orioles 3
White Sox 4 Twins 3
Rockies 4 Cardinals 11
Tigers 6 Mariners 2
Astros 0 Reds 10
Royals 3 Indians 5
Brewers 4 Cubs 3
Mets 5 Giants 8
Athletics 2 Angels 1
Phillies 6 Marlins 4
Pirates 2 Padres 5
Rays 1 Rangers 7
Blue Jays 2 Yankees 0
Nationals 6 Braves 5
Nationals 4 Braves 0
A 6-5 win in the opening game brought the Nationals within 4 1/2 games of the second wildcard spot before pitcher Tanner Roark carried the home side with a 4-0 win in the second with seven scoreless innings.
The Philadelphia Phillies beat the Miami Marlins 6-4 at Citizens Bank Park with Roy Halladay finding some encouraging results after he allowed four hits and one run in six innings.
San Diego Padres beat Pittsburgh Pirates 5-2 as Jedd Gyorko hit a three-run homer and Eric Stults limited the Bucs to two runs.
The Pirates are fighting to secure a post-season spot but Ronny Cedeno added three hits for San Diego, who beat the Pirates for the second straight night to put a dent in their pursuit of their first NL Central title.
Setback
RA Dickey dealt New York Yankees a setback in their pursuit of a wildcard after he shut out an opponent at home for the first time since April 18 as the Toronto Blue Jays won 2-0. Dickey pitched seven shutout innings, allowing four hits, a pair of walks, and striking out eight as Colby Rasmus and Rajai Davis scored the runs for the Blue Jays.
Raul Ibanez scored his 28th home run and rookie Brandon Maurer held Detroit Tigers to two runs on five hits over five-plus innings but was not enough for Seattle Mariners as were beaten 6-2 Comerica Park.
Baltimore Orioles remain two back in the AL Wild Card race after they beat Boston Red Sox 3-2, with the Red Sox reducing their deficit to clinch the AL East to three thanks to the Rays' defeat.
Former New York Mets outfielder Angel Pagan walked twice, singled, hit a RBI triple and broke a 4-4 tie with a seventh-inning home run as San Francisco Giants beat the Mets 8-5 at Citi Field.
Milwaukee Brewers beat Chicago Cubs 4-3 and Cincinnati Reds thrashed Houston Astros 10-0 as Reds right fielder Jay Bruce notched five RBIs.
Cleveland Indians beat Kansas City Royals 5-3, Chicago White Sox beat Minnesota Twins 4-3 and St. Louis Cardinals defeated Colorado Rockies 11-4.