Ainslie inspired Oracle Team make up ground on Emirates Team New Zealand
Last Updated: 15/09/13 7:25pm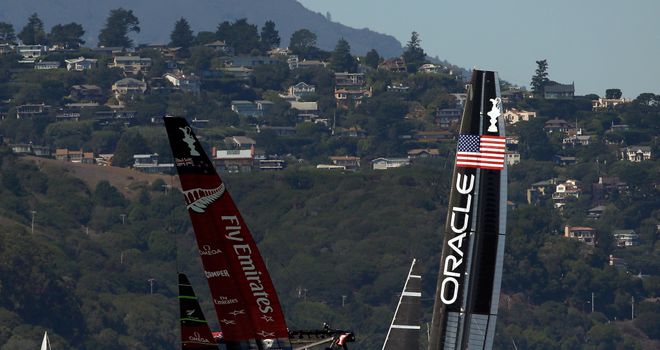 Emirates Team New Zealand (L): Came perilously close to capsizing
Ben Ainslie and skipper Jimmy Spithill guided Oracle Team USA to a 52-second victory in race eight of the America's Cup on the San Francisco Bay on Saturday.
Ainslie, the Oracle tactician, helped his team overcome an eight second deficit at the second marker to secure a 28-second lead over Emirates Team New Zealand at the third.
The win means Oracle now trail 6-0 in the first-to-nine series.
With Team New Zealand on the back foot, their skipper Dean Barker and tactician Ray Davies were forced into some aggressive tactics as they tried to make up ground on their counterparts.
They almost paid the price for it when their vessel Aotearoa leaned some 45 degrees, almost capsizing, while they were also hit by a penalty for failing to give way to the windward boat.
Barker remains confident the Kiwis can build on their early progress and mount a serious assault for the 34th America's Cup.
"We got about as close as you can possibly get to having the thing up on its side," said the Kiwis skipper.
"We still take a lot of positives out of today. We're still very happy with the way the boat's going and there are still things we can improve.
"We'll be out there fighting for points tomorrow."
Excessive windspeed caused the abandonment of race nine with Oracle still trailing by six races.
Races nine and ten will now take place later on Sunday.