MLB: Oakland Athletics move clear in AL West; Tampa Bay Rays stay ahead in wildcard race
Last Updated: 13/09/13 9:07am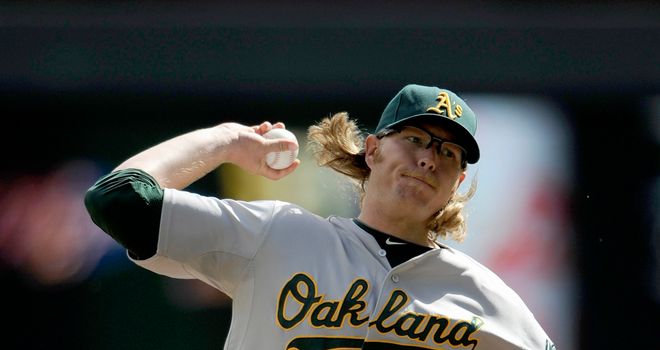 AJ Griffin: Oakland Athletics pitcher gave up two hits over seven innings during victory at Minnesota Twins
Oakland Athletics stretched their advantage over the idle Texas Rangers atop the American League West to 3 1/2 games on Thursday with an 8-2 win against Minnesota Twins.
AJ Griffin gave up two hits in seven innings and Josh Reddick homered in the eighth and had three RBI to help condemn the Twins to a sixth loss in eight games.
Tampa Bay stayed in pole position for the second AL wild card courtesy of a 4-3 triumph over Boston Red Sox. Wil Myers struck the go-ahead RBI double in the eighth inning to ensure the Rays avoided a sweep.
New York Yankees remained one game behind Tampa Bay following a 6-5 success against the Baltimore Orioles. The Yankees blew a four-run advantage at 5-1 but then won it on the back of Brendan Ryan's tie-breaking run in the ninth inning.
In other AL games, a seven-run fifth inning helped keep Cleveland Indians 1 1/2 games adrift of the Rays with a 14-3 win over Chicago White Sox, and Los Angeles Angels edged Toronto Blue Jays 4-3 to seal a three-game sweep.
Four in a row
In the National League, Pittsburgh won their fourth straight game - 3-1 against the Chicago Cubs - to draw even with St Louis Cardinals atop the Central. Jeff Locke allowed three hits in seven innings for the Pirates.
The Cards went down 5-3 at home to Milwaukee, Sean Halton hitting a two-run homer and Tyler Thornburg pitching six strong innings for the Brewers.
Ryan Zimmerman, Adam LaRoche, Wilson Ramos and Anthony Rendon all connected for Washington as the Nationals completed a four-game sweep by sinking New York Mets 7-2 to stay in NL wild-card contention.
In other NL action, Freddy Garcia allowed five hits and one run in six solid innings as Atlanta Braves overcame Miami Marlins 6-1, a six-run first-inning burst spurred Philadelphia Phillies to a 10-5 success against San Diego Padres and Adrian Gonzalez's RBI single gave Los Angeles Dodgers a 3-2 walk-off win over San Francisco Giants.