MLB: Boston Red Sox bounce back to overcome Baltimore Orioles
Last Updated: 29/08/13 7:36am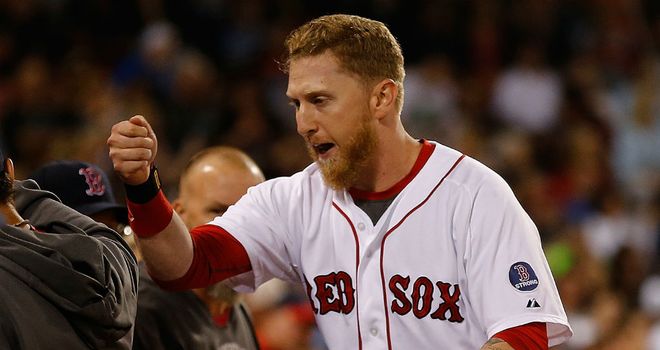 Mike Carp celebrates his winning RBI single for the Boston Red Sox
Mike Carp's pinch-hit RBI single in the eighth completed a late rally for the Boston Red Sox as they beat the Baltimore Orioles 4-3.
Solo homers from Manny Machado and Chris Davis - his Major League-leading 47th long ball of the year - had helped manoeuvre the Orioles into a 3-1 lead at Fenway Park.
But Dustin Pedroia hit a two-run single in the seventh and Carp, pinch-hitting for rookie Xander Bogaerts in the eighth, scored Jarrod Saltalamacchia to complete the win.
It was an important win, too as it maintained Boston's two-and-a-half-game lead at the top of the American League East as Chris Archer's seven strong innings helped the Tampa Bay Rays to a 4-1 win over the Los Angeles Angels.
Rookie Archer allowed one run on five hits, striking out five, while David DeJesus scored twice on a pair of hits.
Brandon Moss smashed two home runs as part of an Oakland hit parade as the Athletics beat the Detroit Tigers 14-4.
Homered
Moss drove in six in total and scored three times on four of Oakland's 21 hits, falling a triple shy of the cycle, while Dan Straily got the win on six innings of one-run ball.
Jay Bruce homered and drove in five as the Cincinnati Reds steamrollered the St Louis Cardinals 10-0.
Bruce kicked off the rout with a two-run single to open up a six-run first, while Homer Bailey pitched 7 1/3 scoreless innings for the win.
Hanley Ramirez and Andre Ethier homered while Ricky Nolasco fanned 11 in eight shut-out frames as the Los Angeles Dodgers beat the Chicago Cubs 4-0, while Chris Johnson hit a walk-off RBI single in the ninth as the Atlanta Braves beat the Cleveland Indians 3-2.
Marlon Byrd smacked a three-run homer on his Pittsburgh debut to help the Pirates beat the Milwaukee Brewers 7-1, while Martin Perez picked up his fifth straight win as the Texas Rangers beat the Seattle Marines 12-4 and the Washington Nationals were 4-3 winners over the Miami Marlins.
The Toronto Blue Jays beat the New York Yankees 7-2, the Chicago White Sox overcame the Houston Astros 6-1 and the Kansas City Royals eased past the Minnesota Twins 8-1.
There were also wins for the Philadelphia Phillies, the Colorado Rockies and the San Diego Padres.