MLB: Allen Craig inspires the St Louis Cardinals
Last Updated: 27/08/13 9:28am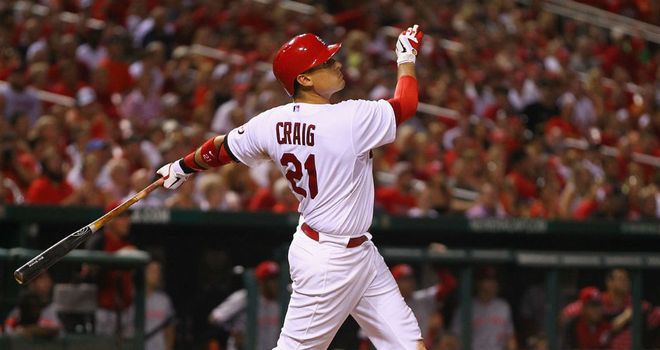 Allen Craig registers his first career grand slam
Allen Craig registered his first career grand slam as the St Louis Cardinals rallied for an 8-6 victory over the Cincinnati Reds.
The Reds went 4-0 ahead in the second on a pair of two-run triples from Zack Cozart and Todd Frazier before Matt Holliday's three-run homer in the third brought the Cards within one.
Cozart's RBI double in the sixth stretched Cincinnati's lead, but Craig intervened to give the Cardinals a win which earned them sole possession of the lead in the National League Central.
Monday's MLB results:
Diamondbacks 6 Padres 1
White Sox 8 Astros 10
Rockies 6 Giants 1
Tigers 6 Athletics 8
Dodgers 6 Cubs 2
Mets 1 Phillies 2
Mariners 3 Rangers 8
Cardinals 8 Reds 6
Blue Jays 5 Yankees 2
Royals 11 Rays 1
Coco Crisp had three hits including his 100th career homer as the Oakland Athletics beat the Detroit Tigers 8-6.
Crisp also snared a highlight-reel catch, while Daric Barton drove in a pair on two hits.
RA Dickey fanned six in 6 1/3 innings to lift the Toronto Blue Jays to a 5-2 win over the New York Yankees.
Dickey scattered six hits and walked three, allowing two runs, one of which - in the form of Alex Rodriguez's 650th career homer - was earned.
Shut-out
Salvador Perez had four RBI - including a three-run homer - as the Kansas City Royals crushed the Tampa Bay Rays 11-1.
Cliff Lee hurled eight innings of one-run ball to claim his first win since the All-Star break as the Philadelphia Phillies beat the New York Mets 2-1.
Matt Dominguez and Chris Carter hit back-to-back solo shots in the ninth to lift the Houston Astros to a 10-8 win over the Chicago White Sox.
Zack Greinke was one out away from a complete-game shut-out in the Los Angeles Dodgers' 6-2 win over the Chicago Cubs, while the Texas Rangers were 8-3 winners over the Seattle Mariners.
Todd Helton and Charlie Blackmon homered in the Colorado Rockies' 6-1 win over the San Francisco Giants and the Arizona Diamondbacks beat the San Diego Padres by the same scoreline.