Curtis Granderson homered as New York Yankees defeated Toronto Blue Jays
Last Updated: 23/08/13 12:57pm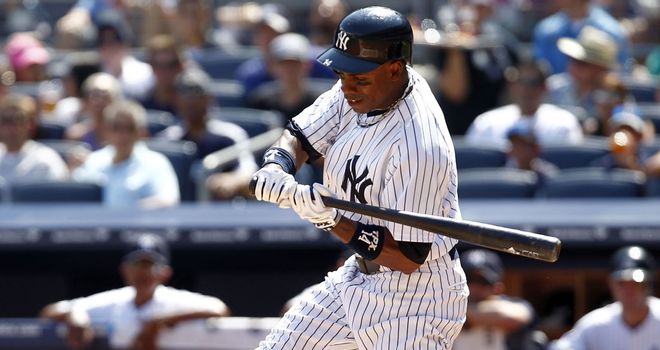 Curtis Granderson: Homered as the New York Yankees beat the Toronto Blue Jays 5-3
Andy Pettitte pitched six effective innings as the New York Yankees picked up a 5-3 victory against the Toronto Blue Jays.
The win, in which Curtis Granderson homered and Eduardo Nunez hit a two-run single, is the Yankees' 10th straight victory against the Canadian side and the New York outfit's fifth straight win.
Elsewhere, Chris Hermann's second RBI double of the game broke an eighth-inning deadlock to lead the Minnesota Twins to a 7-6 win over the Detroit Tigers.
In the other American League game, the Chicago White Sox beat the Royals 4-3 to earn their first three-game sweep in Kansas City since 2009.
Conor Gillaspie homered leading off the 12th inning and also drove the second pitch from Luke Hochevar (3-2) just over the glove of right fielder Justin Maxwell for his 11th homer.
The tiebreaking shot came after Jacob Petricka's major league debut in the 11th inning for the White Sox. Petricka got Salvador Perez to ground into a double play to end the inning.
In the National League, Matt Holliday helped lead the St. Louis Cardinals to a 6-2 win over Atlanta Braves and David Freese drove in two runs as the side won for the fifth time in six games.
Meanwhile the Pittsburgh Pirates defeated the San Francisco Giants 10-5 while the Philadelphia Phillies earned a 5-4 victory against Colorado Rockies.
The Los Angeles Dodgers won their third game in a row after a 6-0 shut out of the Florida Marlins, the Washington Nationals beat the Chicago Cubs 5-4 after 13 innings and Arizona Diamondbacks suffered a 2-1 defeat to Cincinnati Reds.