MLB: Albert Pujols out for season for LA Angels
Last Updated: August 20, 2013 7:46am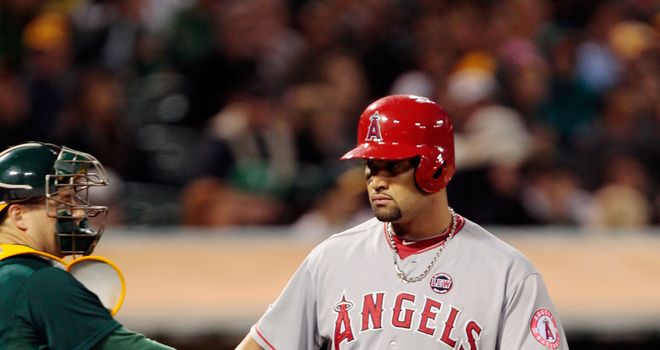 Albert Pujols of the Los Angeles Angels
The struggling Los Angeles Angels lost Albert Pujols for the rest of the season and then lost 5-2 to the Cleveland Indians.
Pujols, in the second year of a 10-year $240m contract, was officially ruled out of the rest of the season with a foot injury before the game.
Without him, the Angels gave up four runs in a fourth inning highlighted by a two-run shot from Lonnie Chisenhall as Cleveland took control.
The Texas Rangers scored 11 runs in the third inning alone en route to a 16-5 rout of the Houston Astros in Arlington.
AJ Pierzynski had four hits including a home run, while Elvis Andrus stole home in an electric display from Texas.
However, the Oakland Athletics kept pace just half a game back in the AL Central after Brandon Moss hit a walk-off homer to beat the Seattle Mariners 2-1.
The Boston Red Sox shut out the San Francisco Giants 7-0 behind 8 1/3 strong innings from Jon Lester to maintain their one-game lead over the Tampa Bay Rays in the AL East.
National League
In the National League, the Los Angeles Dodgers lost back-to-back games for the first time in almost two months as they went down 6-2 against the Miami Marlins.
The Dodgers have been on a tear in recent weeks with the franchise's best run in 60 years, but fell into a losing streak for the first time since June 21 as Jose Fernandez won his hotly anticipated duel with fellow Cuban Yasiel Puig.
Fernandez allowed two runs, one earned, on four hits in six innings, with Puig 0-for-4 with two strikeouts in the game.
David DeJesus found himself in the visitors' clubhouse at Wrigley Field and then on the wrong end of a heavy defeat as the Chicago Cubs routed the Washington Nationals 11-1.
The Cubs traded DeJesus to Washington hours before the game.
Once it began, he had to watch his old team beat his new one with five home runs, two of them off the bat of Nate Schierholtz.
Francisco Liriano struck out 13 in seven shut-out innings as the Pittsburgh Pirates beat the San Diego Padres 3-1 to stay one game clear in the NL Central.
The St Louis Cardinals kept pace as they scored four runs in the eighth inning to claim an 8-5 win over the Milwaukee Brewers.
The Cincinnati Reds are two and a half games back after Todd Frazier's homer helped them to a 5-3 win over the Arizona Diamondbacks.
The New York Mets piled up 14 hits in a 6-1 win over the Minnesota Twins, while John Mayberry Jr and Carlos Ruiz went deep to lift the Philadelphia Phillies to a 5-4 win over the Colorado Rockies, giving them back-to-back wins for the first time since mid-July.