MLB: Alex Rodriguez silences his critics as Yankees hit back
Last Updated: August 19, 2013 8:27am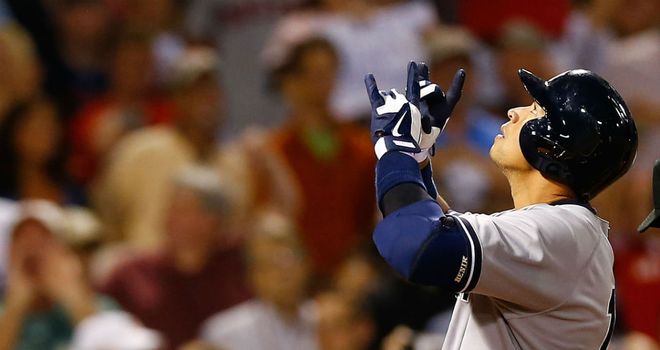 Alex Rodriguez: Celebrates hitting a home run for the New York Yankees
Alex Rodriguez had the last laugh as the New York Yankees rallied for a 9-6 win over the Boston Red Sox in a highly-charged game.
Rodriguez, who is playing under a cloud as he appeals a 211-game suspension handed down by Major League Baseball as part of its Biogenesis doping investigation, was hit by a pitch in the second inning by Ryan Dempster to roars of approval from the Fenway Park faithful in an incident which saw both benches warned and Yankees manager Joe Girardi ejected.
Rodriguez came round to score that inning, but a Will Middlebrooks homer helped the Sox establish the 6-3 lead.
Rodriguez's solo shot, though, in the sixth - greeted by a chorus of boos from the Boston fans - began a rally which took the Yankees to victory.
Miguel Cabrera smacked the first pitch he saw for a home run as the Detroit Tigers beat the Kansas City Royals 6-3.
Cabrera's long ball was his 40th of the season and 361st of his career - tying him with Joe DiMaggio on the all-time list.
Errors
Casper Wells scored on the back of two errors from Hanley Ramirez as the Philadelphia Phillies gave manager Ryne Sandberg his first win - a 3-2 walk-off effort over the Los Angeles Dodgers.
Jose Lobaton had his second walk-off hit - a 10th-inning solo shot - just two days after his first as the Tampa Bay Rays beat the Toronto Blue Jays 2-1.
Chris Davis cracked his Major League-leading 45th home run of the season as part of a four-hit performance in the Baltimore Orioles' 7-2 win over the Colorado Rockies, while Adam Eaton hit a two-run double in the 16th to give the Arizona Diamondbacks a marathon 4-2 win over the Pittsburgh Pirates.
Adam Wainwright fanned 11 in seven innings of one-run ball as the St Louis Cardinals beat the Chicago Cubs 6-1, the Oakland Athletics beat the Cleveland Indians 7-3, the Miami Marlins edged out the San Francisco Giants 6-5 and the Atlanta Braves overcame the Washington Nationals 2-1.
There were also wins for the Chicago White Sox, the Cincinnati Reds, the Seattle Mariners, the Houston Astros and the San Diego Padres.