MLB: Miguel Tejada banned for 105 games for doping offence
Last Updated: 18/08/13 8:40am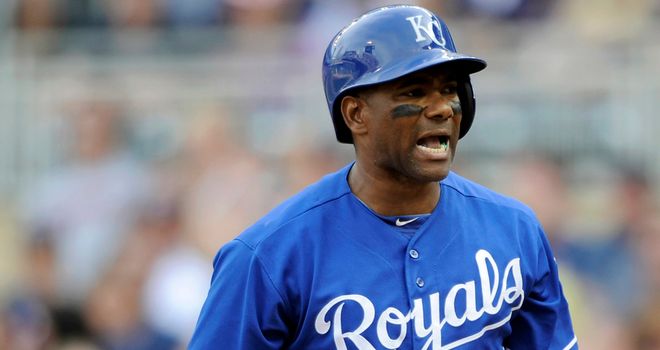 Miguel Tejada: 105 game ban for Royals infielder
Miguel Tejada has become the third former Most Valuable Player to be hit with a significant ban for a doping offence.
The infielder, now playing for the Kansas City Royals, will have to sit out 105 games after testing positive for amphetamines, and may well have played his final game in the major leagues.
It is reported that Tejada's positive was for Adderall, which is used to treat Attention Deficit Disorder, but has recently become associated as a popular performance-enhancer as well.
Tejada, 39, was already on the 60-day disabled list with a calf injury and the severity of his punishment is based on a previous positive test - he will miss the first two months of next season if anyone offers him a contract. He becomes a free agent at the end of 2013.
He won the American League's MVP award in 2002 and has been an All-Star on six occasions, but has often had to answer questions about doping - he was mentioned in the Mitchell Report in 2009 and charged with lying to Congress about the use of performances enhancers in baseball.
"I apologize to my teammates, the Royals organization and to the Kansas City fans," Tejada said in a statement released by the MLB players' association.
"I have a medical condition that requires medication to treat. I took that medication while re-applying for a Therapeutic Use Exemption. Under the requirements of the Joint Drug Program, I made a mistake in doing so."
Earlier this month, Alex Rodriguez was banned for 211 games, through the end of next season, and Ryan Braun for 65 games for their involvement in the Biogenesis Clinic scandal.