Athletics: Mo Farah may bid for the 1500m world record next year
Last Updated: August 17, 2013 11:28am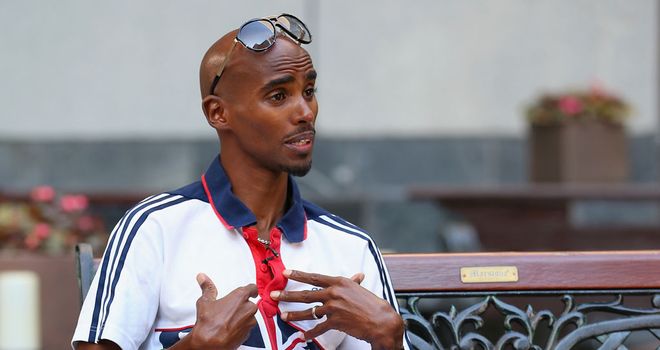 Mo Farah: Has been at his brilliant best in Moscow
Mo Farah says he had to fight very hard to clinch his historic victory in the World Championship 5,000m in Moscow.
And the unstoppable British distance runner says his 2014 campaign could feature a bid for the 1500m world record, as well as his debut in the marathon.
The 30-year-old produced a typically gutsy performance to hold off the challenges of Hagos Gebrhiwet and Isiak Kiplangat Koech in the finishing straight and claim a dramatic win in the 5,000m on Friday night.
He has now become just the second man in history to achieve the 'double double' of victory in the 5,000m and 10,000m at both the Olympics and the world championships.
Farah: I had to grit my teeth
Reflecting on Friday's success, Farah said: "It was very difficult, to be honest, I had to dig in deep and think about how much work I had put into it.
"I came away with the win at the end but it was hard work, I had to grit my teeth and just dig in deep.
"I enjoy what I do and I will keep enjoying it and working hard. That's what you have to do in this sport and I enjoy going for a run and putting a lot of hard work into it."
Looking towards the marathon in London next spring, he added: "Yes, it's very exciting.
"I want to run around London and get the support I got during the London Olympics. I'm looking forward to April and making my debut in the London marathon."
The versatile Farah recently broke the European record over 1500m, becoming the sixth fastest man of all-time at that distance and raising the possibility of a world record bid, possibly at the Commonwealth Games next year.
Asked if a world record at that distance was more realistic than breaking the 5,000m mark, Farah replied: "For sure, it's closer.
"I've run 3:28 and the record is 3:26. I'm not saying I'm going to get a world record but, in the 5,000, I've run 12:53 and the world record is 12:37, so I'm quite a lot further away."