World Championships: Dai Greene fails to shine in heats of 400 metres hurdles
Last Updated: August 12, 2013 5:06pm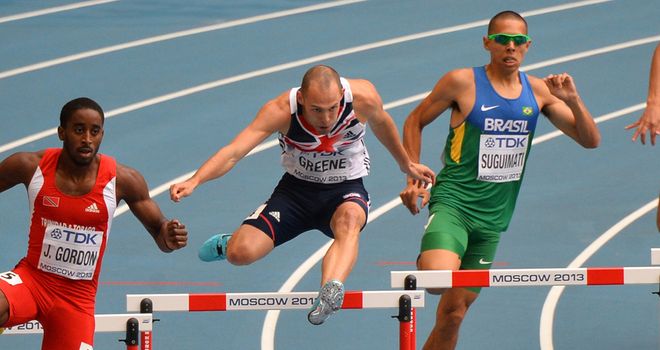 Dai Greene: Hoping for better after slow start to defence of 400m hurdles title
Dai Greene was less than impressive as he began the defence of his 400 metres hurdles title at the World Championships in Moscow.
Greene's preparations for the event were badly hampered by a torn calf and he admitted after coming home fifth in his heat that he had also been suffering with illness since before the weekend.
The 27-year-old started well but faded down the home straight when a lack of top-level fitness showed, finishing fifth but being promoted when Puerto Rico's Eric Alejandro was disqualified.
His time of 49.79 seconds would have been enough to qualify as a fastest loser anyway but Greene admitted he is some way short of the shape he would have liked to be in to live up to his billing as a medal contender.
Greene said: "I've had a tough few weeks. I've not been able to do as much hurdling and it showed a bit at the end.
"I was ill on Friday and Saturday, so it's been a nightmare few days to be honest. I came down with some fever on Friday night and I've just been trying to eat and drink as much as I can to get my energy up.
"We were wondering if I'd be good enough to run today. We didn't know what I was capable of.
"We've got the answer and it's not the kind of answer we like. But hopefully I'll be a bit better on Tuesday. I've had this situation before where you do one race and then feel a lot better the next day as a result of it. Fingers crossed I can rest up enough and put in a better performance tomorrow.
"The calf's been good. I hurdled on Friday for the first time, only over half a dozen hurdles, but that's all we wanted to do. We don't want to risk it, just to get the confidence it was working again. If I feel like this tomorrow then realistically I'll have no chance of getting a medal, but I hope I'll feel better."
Britain's other two runners also made it through but European champion Rhys Williams also struggled to finish fourth in 49.85 seconds and Sebastian Rodger had to rely on being one of the fastest losers despite clocking the best time of the three - 49.66 seconds only good enough for fifth in his heat.
There was also positive news in the women's event where Perri Shakes-Drayton was an impressive winner of her heat in the fastest time clocked, 54.44 seconds.
She pulled comfortably clear of defending champion Lashinda Demus of the United States and Russia's Olympic gold medallist Natalya Antyukh, but there was also a superb performance from strongly-fancied Czech runner Zusana Hejnova, who slowed to a jog some way out in winning in 55.25 seconds.
Scotland's Eilidh Child, also enjoying the season of her life, went through to the semi-finals after finishing second in her heat in 55.17, and Meghan Beesley made it a full contingent in the next round by also coming second in 55.45.
Shakes-Drayton said: "It felt good, it was relief - I'm through without anything happening. I knew I was more than capable of making it through, but it's just pure relief. I just need to rest and recover properly and tomorrow's another day."