Athletics: Paula Radcliffe hopes for decent British medal haul at World Championships
Last Updated: 07/08/13 6:18pm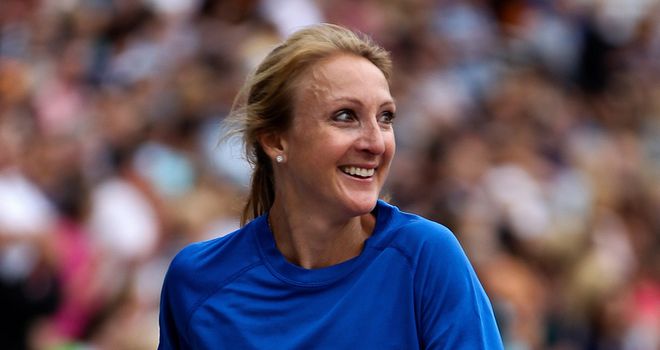 Paula Radcliffe: Hoping for British success in Moscow
Paula Radcliffe hopes Great Britain will have some success to celebrate at the World Championships in Moscow despite some key absentees from the team.
The team has been hit by a number of injuries, most notably to heptathlon favourite Jessica Ennis-Hill, but Mo Farah heads to Russia with bright prospects of gold and a number of younger athletes will also fancy their chances.
Radcliffe particularly hopes the younger members of the team will put up performances that highlight them as medallists of the future, able to take over from the old guard.
She said: "We've got a young team, probably a smaller team than ideally I would have liked to have seen selected, and it has been hit by injuries to people like Jess and Dai's struggling coming in as well.
"That does impact our medal chances but then at the same time I think we have a strong team and a lot of possibilities in there as well.
We've got that mix of experience with guys like Mo and Christine Ohoruogu coming in, and Perry (Shakes-Drayton) is in the middle, and the youngsters coming through, with Katarina (Johnson-Thompson) in the heptathlon.
"I think there are a lot of hopes there, people coming into the championships who can rise to the occasion and use it as a stepping stone."
Future
Radcliffe's own future in the sport remains in the balance, but she is still not ready to call it a day on her competitive career despite a lengthy, and at times emotionally-scarring, battle with a foot injury.
She added: "I think my future will always be running. I'm able to run again now, I wasn't from August to April, so the fact I am just doing that is something that I want to safeguard and keep for the future as well.
"I'm taking it one step at a time and the truth is I don't know that it's going to recover enough to be able to stand coming back to running marathons at the level I want to or whether it isn't.
"At the moment my progress, the line it's on, it could be possible so I'm taking it one day at a time. It's difficult for me to say I am retiring because I am never going to retire from running. I might retire from competing but I am always going to be a runner."