MLB: Mike Napoli's 11th-innings homer seals victory for Boston Red Sox
Last Updated: 22/07/13 10:06am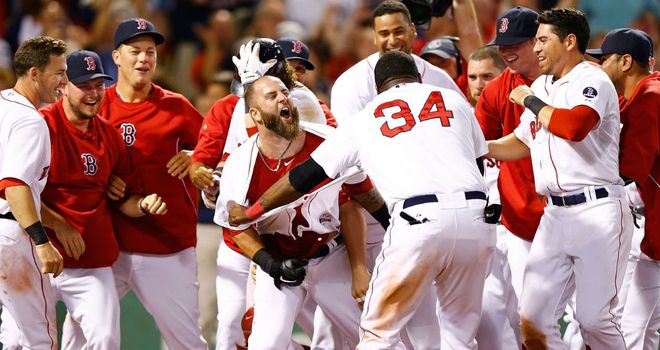 Mike Napoli (c) is mobbed by his Boston Red Sox team-mates
Mike Napoli hit his second home run of the game in the 11th innings as the Boston Red Sox walked off with an 8-7 win over the New York Yankees.
Napoli took Adam Warren deep after the Yankees bullpen had stifled the Red Sox offence for 5 2/3 innings in relief of a struggling CC Sabathia.
Napoli, who had four RBI, and Jonny Gomes had earlier launched huge homers over the Green Monster to help the Red Sox to a 7-3 lead, but the Yankees put up two runs apiece in the sixth and seventh thanks in part to three Red Sox errors.
Chris Archer hurled seven innings of one-run ball as the Tampa Bay Rays continued their scorching run of form with a 4-3 win over the Toronto Blue Jays.
Matt Harvey showed All-Star form across seven scoreless innings in the New York Mets' 5-0 win over the Philadelphia Phillies.
Harvey, who started for the National League in the Midsummer Classic at Citi Field on Tuesday, dazzled at the same venue as he allowed three hits, punching out 10, while another All-Star, David Wright, hit the first of three Mets homers.
Homer
Clayton Kershaw tossed seven strong innings and Hanley Ramirez launched a three-run homer as the Los Angeles Dodgers eased past the Washington Nationals 9-2.
Bartolo Colon authored a four-hit shut-out to help the Oakland Athletics beat the Los Angeles Angels 6-0, while Adam Wainwright also notched his 13th 'W', allowing two runs in eight innings as the St Louis Cardinals edged out the San Diego Padres 3-2.
Caleb Gindl launched a walk-off homer to lead off the bottom of the 13th and give Milwaukee a 1-0 win after the Brewers and the Miami Marlins had failed to produce a run in the preceding 12 1/2 innings.
Chris Tillman tossed eight-plus innings of two-run ball as the Baltimore Orioles completed a sweep of the Texas Rangers with a 4-2 win, while Jason Kipnis drove in three on two hits, including a two-run homer, to help the Cleveland Indians beat the Minnesota Twins 7-1.
Solo shots from Miguel Cabrera and Andy Dirks lifted the Detroit Tigers to a 4-1 win over the Kansas City Royals, Nick Franklin launched his first career grand slam in the Seattle Mariners' 12-5 win over the Houston Astros, while the Colorado Rockies edged out the Chicago Cubs 4-3.
The Pittsburgh Pirates beat the Cincinnati Reds 3-2, the Chicago White Sox were 3-1 winners over the Atlanta Braves and the Arizona Diamondbacks overcame the San Francisco Giants 3-1.