MLB: Toronto make it 11 wins on the trot with rout of Baltimore
Last Updated: 24/06/13 7:59am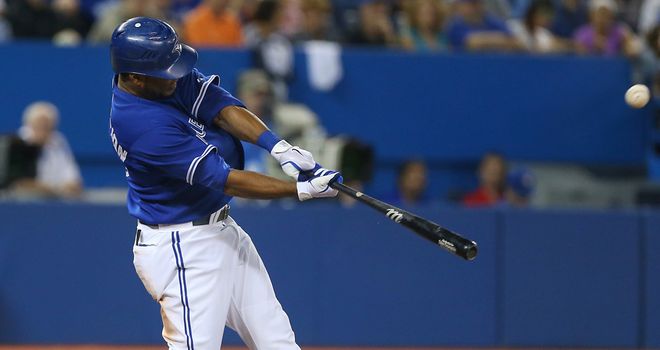 Edwin Encarnacion hit his 21st home run of the season as the Toronto Blue Jays extended their winning streak to 11 games with a 13-5 rout of the Baltimore Orioles.
Encarnacion and JP Arencibia had three hits apiece, with the Blue Jays storming into a 9-0 lead inside three innings.
Playing at designated hitter, Encarnacion crossed for the first run when Arencibia was hit by a Freddy Garcia pitch, and he added a home run in the second to make it 4-0.
Five more runs came in the third, by when Garcia had been pulled from the game, with Encarnacion adding third and fourth RBI with a double off reliever T.J. McFarland.
Baltimore briefly threatened a rally in the sixth and seventh but four more runs came for the Blue Jays in the bottom of the seventh to put a seal on the game, three of those coming thanks to a Jose Bautista double.
They now sit five games behind the Boston Red Sox, who crumbled to a 7-5 defeat by Detroit, and there was also defeat for the New York Yankees, who went down 3-1 to Tampa Bay, for whom James Loney hit a match-winning two-run single.
Matt Harvey was on Cy Young form for the New York Mets with six innings of shutout ball in their 8-0 win over the Philadelphia Phillies.
Harvey improved his record to 7-1 on the season and also batted in only his second run of the season with a fifth-inning double.
Ryan Sweeney helped the Chicago Cubs to a 14-6 win over the Houston Astros with six RBI on three hits, one of which was a home run off Wade LeBlanc.
And there was an incredible win for the Pittsburgh Pirates, who kept their National League Central hopes alive with a 10-9 win over the Los Angeles Angels in 10 innings.
They rallied from 5-1 and 6-3 deficits to level the game at 6-6 in the top of the ninth inning, and there was more drama in extra innings.
Singles from Russ Martin and Travis Snider plated four runs for the Pirates but they had to hold on for dear life when the Angels replied with three runs in the bottom of the inning before closer Jason Grilli finally put the game to bed.