MLB: Red-hot Yankees make it seven wins from eight after beating Seattle Mariners
Last Updated: 15/05/13 7:27am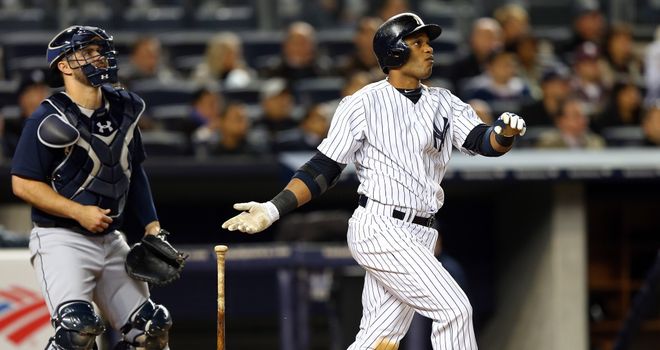 Robinson Cano: drove in two runs in Tuesday's 4-3 victory over the Seattle Mariners
Robinson Cano and Lyle Overbay drove in two runs apiece as the New York Yankees rallied for a 4-3 victory over the Seattle Mariners at Yankee Stadium on Tuesday night.
Cano followed up a two-run double to the gap in right-centre field with a tie-breaking run on a sacrifice fly by Overbay as the American League East-leading Yankees made it seven wins in eight games.
Matt Moore threw down six solid innings for Tampa Bay as the Rays defeated Boston 5-3 to send the Red Sox tumbling to a third straight loss.
Tuesday's MLB results
Diamondbacks 2 Braves 0
Orioles 2 Padres 3
Cubs 4 Rockies 9
Tigers 6 Astros 2
Angels 6 Royals 2
Dodgers 2 Nationals 0
Marlins 2 Reds 6
Twins 2 White Sox 4
Yankees 4 Mariners 3
Athletics 5 Rangers 6
Phillies 6 Indians 2
Pirates 4 Brewers 3
Cardinals 10 Mets 4
Rays 5 Red Sox 3
Blue Jays 10 Giants 6
In other AL action, the Detroit Tigers condemned the Houston Astros to a sixth straight defeat courtesy of a 6-2 success, the Texas Rangers prevailed 6-5 in the 10th against the Oakland Athletics, the Chicago White Sox saw off the Minnesota Twins 4-2 and the Los Angeles Angels overcame the Kansas City Royals 6-2.
In the National League, Carlos Beltran had three hits - including a three-run homer in the fifth - and knocked in four runs as the St Louis Cardinals cruised past his former team the New York Mets 10-4.
Reds beat Marlins
Homer Bailey pitched his fourth complete game to help the Cincinnati Reds overcome the Miami Marlins 6-2.
Carlos Gonzalez belted two home runs and posted a career-high five hits for Colorado as the Rockies toppled the Chicago Cubs 9-4.
Elsewhere, Andrew McCutchen homered in the bottom of the 12th inning as the Pittsburgh Pirates squeezed past the Milwaukee Brewers 4-3, the Arizona Diamondbacks saw off the Atlanta Braves 2-0 and the Los Angeles Dodgers were 2-0 winners against the Washington Nationals.
Toronto clinched their third consecutive win by overcoming the San Francisco Giants 10-6, the Blue Jays never looking back after surging to a six-run lead after the first inning in the first game of their Interleague set.
Finally, Kevin Frandsen and Domonic Brown hit solo shots fo the Philadelphia Phillies in their 6-2 Interleague triumph over the Cleveland Indians at Citizens Bank Park, while the San Diego Padres edged Baltimore Orioles 3-2.