MLB: Rookie Shelby Miller throws one-hit shutout as Cardinals beat Rockies
Last Updated: 11/05/13 8:26am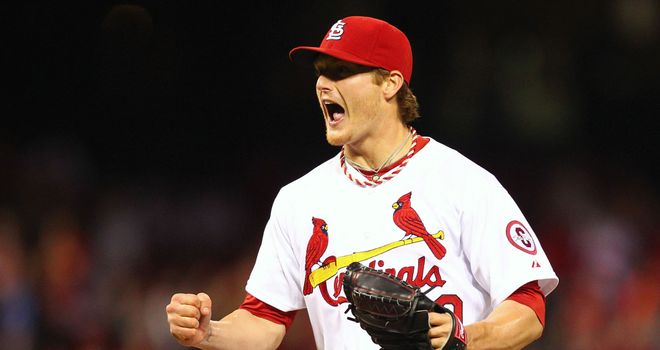 Shelby Miller: pitched a one-hit shutout for the St Louis Cardinals
Rookie Shelby Miller retired 27 straight after giving up a lead-off single to Eric Young Jr as he pitched a one-hit shutout in the St Louis Cardinals' 3-0 win over the Colorado Rockies.
Young was the only man to get on base for the Rockies as Miller fanned 13 in the first complete game of his young career. Carlos Beltran went yard for the Cardinals, while Matt Holliday and Pete Kozma each drove in a run.
Jon Lester also hurled a one-hitter to lead the Boston Red Sox to a 5-0 win over the Toronto Blue Jays.
Major League Results:
Diamondbacks 3 Phillies 2
Red Sox 5 Blue Jays 0
White Sox 5 Angels 7
Reds 4 Brewers 3
Tigers 10 Indians 4
Astros 2 Rangers 4
Royals 6 Yankees 11
Dodgers 4 Marlins 5
Twins 6 Orioles 9
Mets 3 Pirates 7
Giants 8 Braves 2
Mariners 6 Athletics 3
Cardinals 3 Rockies 0
Rays 6 Padres 3
Nationals 7 Cubs 3
Lester allowed just one baserunner all night - Maicer Izturis doubled in the sixth - as he struck out five in his third career shutout to help the Sox end a three-game losing streak.
Lyle Overbay had a home run and five RBIs as the New York Yankees beat the Kansas City Royals 11-6. Ichiro Suzuki also homered, while Phil Hughes got the win despite allowing six runs in 5 2/3 innings.
Alex Cobb struck out 13 in just 4 2/3 innings before the Tampa Bay Rays beat the San Diego Padres 6-3.
Angel Pagan homered as the San Francisco Giants overcame Atlanta 8-2, defeating Braves starter Tim Hudson for the first time in 10 attempts.
Nats beat Cubs
Ian Desmond had three hits including a home run, drove in three and scored three times in the Washington Nationals' 7-3 victory over the Chicago Cubs.
Manny Machado's tie-breaking RBI single led a three-run 10th for the Baltimore Orioles as they beat the Minnesota Twins 9-6.
Raul Ibanez cracked a three-run homer off Oakland rookie Dan Straily as the Seattle Mariners beat the Athletics 6-3.
Garrett Jones belted a three-run shot in the Pittsburgh Pirates' 7-3 win over the New York Mets and Brandon Phillips went yard to help the Cincinnati Reds edge out the Milwaukee Brewers 4-3.
Prince Fielder and Miguel Cabrera homered in the Detroit Tigers' 10-4 win over the Cleveland Indians, while Jeff Baker's long ball led the Texas Rangers to a 4-2 victory over the Houston Astros.
The Los Angeles Angels beat the Chicago White Sox 7-5, the Arizona Diamondbacks edged out the Philadelphia Phillies 3-2 and the Miami Marlins were 5-4 winners over the Los Angeles Dodgers.