MLB: Chris Davis hits home run for fourth straight game in Baltimore
Last Updated: 06/04/13 7:48am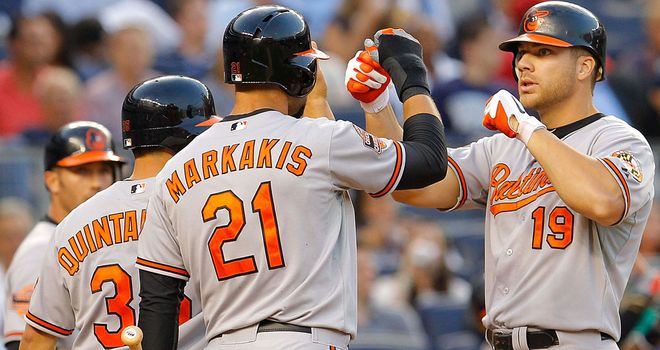 Chris Davis: Home run hero for the fourth straight game
Chris Davis became the fourth player in major league history to hit home runs in his first four games of the season in Baltimore's 9-5 win over Minnesota.
Davis extended his torrid start with a grand slam and five RBI to thrill the Orioles' faithful on opening day, joining Willie Mays, Mark McGwire and Nelson Cruz in the record books.
The first baseman has already contributed 16 RBI in the first week of the season, a number that might usually be considered a decent return for a whole month.
The Orioles were trailing 5-4 going into the eighth but Twins reliever Casey Fien imploded in allowing the tying run and his replacement Tyler Robertson then gave up Davis' Grand Slam to clear the bases.
The wide-open nature of the opening week continued with no team heading into the weekend with a 100% record - the biggest losers of the day proving to be the Washington Nationals.
They won their opening three games of the season on the back of some superb pitching, but winter signing Dan Haren couldn't keep that going and the Nationals fell to an ugly 15-0 defeat at the Cincinnati Reds, their biggest defeat since returning to the capital city.
Todd Frazier and Zack Cozart homered twice and Shin-Soo Choo and Xavier Paul also went deep, the latter for a Grand Slam as the Nationals bullpen failed to stop the bleeding.
Zack Greinke made a fine impression on his Los Angeles Dodgers debut, pitching 6 1/3 scoreless innings in their 3-0 win over Pittsburgh which saw Andre Ethier hit his first homer of the fledgling season.
Kansas City's bats were also red-hot in Philadelphia as the Royals stormed to a 13-4 win over the Phillies in an interleague match-up.
Alcides Escobar hit his first home run of the campaign and stole a base, while Eric Hosmer contributed four hits and three RBI.