Hannah Miley and Michael Jamieson won international swim titles in Leeds
Last Updated: 09/03/13 12:30pm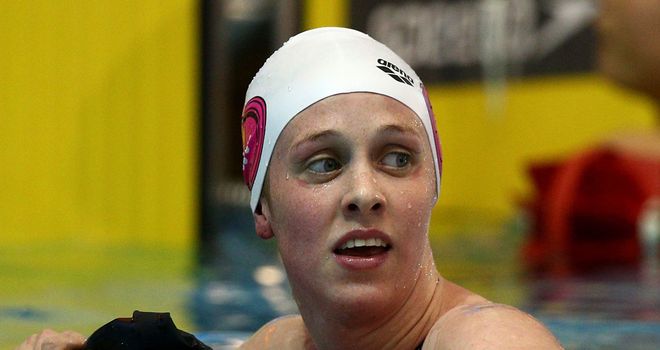 Hannah Miley: Successful in the 400m individual medley
Hannah Miley produced a world-class swim to win the 400 metres individual medley on the second evening of the British Gas International Swim Meet in Leeds despite being in heavy training
While Miley was enjoying an authoritative victory, Olympic 200m silver medallist Michael Jamieson took the 100m breaststroke title from an outside lane at the John Charles Centre for Sport.
Miley found herself in the unaccustomed position of being beaten by a domestic rival when she was second behind Siobhan-Marie O'Connor in the 200m individual medley on the meet's first night.
She returned to her favoured 400m event on Friday and was 1.74secs adrift of fellow Olympian Aimee Willmott at halfway.
The 23-year-old Scot was gradually able to reel in her rival to lead going into the freestyle leg in which Miley went almost three seconds faster than Willmott.
At first glance, it is notable her time of four minutes 35.57 seconds was just 1.40secs outside her fifth place at last year's Olympics.
Miley said: "The difference between that is that I didn't go a 4:47 in the heats in London - I went a 4:34 - so there is a big difference between going hard in the heats and then having to swim hard again.
"The fact I kind of played about and took it quite easy in the morning meant I could go a lot faster - but I didn't expect to go that quick.
"Recently I went a 4:36 and that was quite surprising, I didn't think I would go anywhere near that time.
"It's nice I've gone a little bit quicker - again I swam it a little bit different."
Jamieson, meanwhile, had only just scraped into his final after finishing joint eighth with Russell Smith, having eased up on the second length of his heat this morning necessitating a swim-off.
The Glaswegian held off a fast-finishing Craig Steeples to win the 100m breaststroke in one minute 0.82 seconds.
The 25-year-old said: "I'm pretty happy with that, especially after this morning with an error of judgement in the heats and I had to do an extra 100.
"This meet is more about the racing than the time - some are rested, some aren't, some are shaved, some aren't."
In the multi-disability events, Paralympic champion Jessica-Jane Applegate set her second British record in 24 hours when she won the MC 200m freestyle, .
Applegate, who swims in the S14 category, earned 1047pts with her time of 2:12.47 for victory before returning minutes later to win the 100m butterfly.
Triple Paralympic medallist Hannah Russell (S12) won her second title in two days with victory in the MC 400m freestyle. Ellie Simmonds was fifth.
Paralympic champion Josef Craig (S7) won the MC 400m freestyle, Daniel Pepper (S14) claimed the 200m freestyle and Craig Rodgie (S14) took the 100m butterfly.