Skiing: Viktoria Rebensburg claims ninth World Cup victory in Are, Sweden
Last Updated: 19/12/12 7:56pm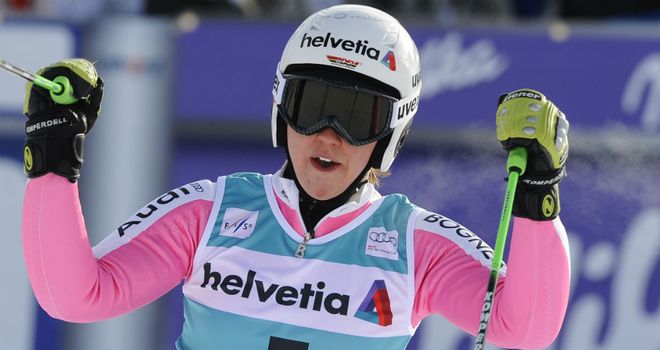 Viktoria Rebensburg: has now won ninth World Cup races in her career
Viktoria Rebensburg put an end to Tina Maze's dominance in the women's giant slalom by winning the World Cup race in Are on Wednesday.
The German clocked the fastest time in the opening run and then held on to her lead in the second, finishing with a combined time of two minutes, 28.94 seconds.
"It's good to be back in the lead, it's a good feeling to win again," said Rebensburg, who will not take part in Thursday's slalom. "I can really go home now and have a good time and relax a bit with my friends and my family."
It was the ninth World Cup victory for the two-time defending champion in the discipline.
Austrian Anna Fenninger was second ahead of Maze, the Slovenian having to settle for third having previously recorded four consecutive giant slalom wins this season.
Despite seeing her streak come to an end, Maze still added to her overall World Cup lead; she is now on 859 points, 351 ahead of German Maria Hoefl-Riesch in second place.
Overall champion Lindsey Vonn was absent from the event, having opted for a mid-season break to fully recover from an intestinal illness.