All four of GB's Olympic gold medal-winning showjumping team will feature at Olympia
Last Updated: 07/12/12 6:03pm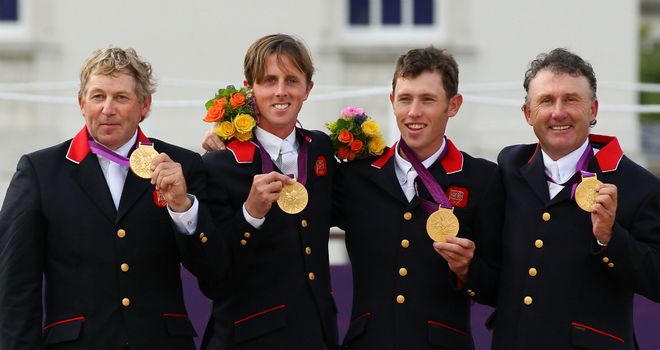 Golden quartet: Nick Skelton, Ben Maher, Scott Brash and Peter Charles gave Britain its first Olympic showjumping gold medal for 60 years
The London International Horse Show at Olympia will feature all four members of Great Britain's Olympic gold medal-winning showjumping team, organisers confirmed on Friday.
Nick Skelton, Scott Brash, Ben Maher and Peter Charles are among the final list of entries for the show, which runs from December 17-23.
The quartet gave Britain its first Olympic showjumping gold medal for 60 years by beating Holland in a thrilling London 2012 jump-off at Greenwich Park just over four months ago.
Three of the four - Skelton, Brash and Maher - are entered with their respective Olympic horses Big Star, Hello Sanctos and Tripple X III.
Switzerland's Steve Guerdat, the reigning Olympic champion and world number one, is another confirmed starter, together with fellow top 10 riders Skelton, Pius Schwizer, Christian Ahlmann, Kevin Staut, Marcus Ehning and Edwina Tops-Alexander.
Outside of the Olympic team, major British challengers include Michael Whitaker, John Whitaker, Will Funnell, Guy Williams and Tim Stockdale.
Event director Simon Brooks-Ward said: "We are delighted with the line-up at Olympia this year and honoured to be hosting all four of the Olympic medallists.
"Following the success of equestrian sport this summer, this competition gives the audience much to look forward to. We are going to have some very exciting classes."
The prestigious London show is highlighted by the Rolex World Cup class on the penultimate day, which was won last year by Maher.
The show starts with two days of World Cup dressage, which will see British Olympic gold medallists Charlotte Dujardin and Carl Hester in action aboard their London 2012 horses Valegro and Uthopia.